I am the 19th generation in my family's history. Both my parents were born and raised in the north, as were their ancestors before them. As I mentioned in the last section, after Viet Nam was divided in half in 1954, they made the decision to leave the north, their home and the place where their ancestors lived, to move to the south, away from the Communists.
A Journey of a Thousand Miles Begins With One Step
They eventually settled in Saigon and my parents met while my dad was working for the Army Corp of Engineers and my mother was working as an administrative assistant for the U.S. military. By the way, except for the communists, nobody calls it Ho Chi Minh City -- it will always be Saigon.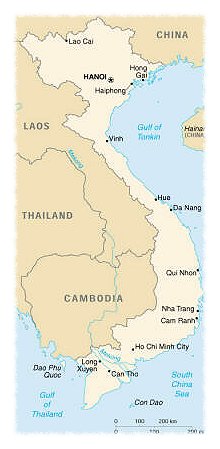 Whenever I talk about Viet Nam, I always get asked, "So what was it like living there during the war?" If I can sum it up in one word, it would be "peaceful." Obviously, I was only 5 years old when we left, so I really had no idea that there was a major war going on all around us. I only remember that my life in Viet Nam was very tranquil and happy. I remember bits and pieces though, such as my parents taking me to the zoo every once in a while, going with my parents and their friends to the countryside to take pictures, and riding around with my dad on his motorcycle on the weekends.
We finally left Viet Nam the day after the Communists took over the south. At the time, my mom was working as a radio program writer for the South Vietnamese military and my dad had his own engineering firm. We evacuated to Phu Quoc island off the coast of Saigon a few days before the takeover and once the takeover was official, the communists gave everyone who was associated with the U.S. military 24 hours to leave the country. So in that panic, we and about 1,000 other refugees finally boarded a cargo ship and left our home, our country behind.
I remember that this was when I began to know that something strange was going on. We sailed to Guam where we were processed and issued our legal documents, then flown to Fort Chaffee, Arkansas. We stayed there for a few months, then relocated to Camp Pendleton, California for another few months. Finally, we were sponsored by a Jewish synagogue and resettled into southern California where we began our life in the U.S.
I can only imagine how difficult an experience that was for my parents and so many thousands more of us -- to have to leave behind everything you and your ancestors generations before had known and to have to start a new life in a completely new country. For that and so much else, I owe a lot of gratitude to my parents and much sympathy and inspiration to all of us who made the heroic journey.
You Always Know When You're Home

From December 23, 1997 to January 18, 1998, I returned home to visit Viet Nam for the first time since my family and I fled the country in May of 1975. To make a long story short, I had a blast. I loved hanging out with my cousin Lan and his friends in Saigon and taking sightseeing trips up north to Hanoi and the mountain regions near the Chinese border. It was an incredible experience. As strange as it might sound, the minute I landed on the ground at the airport in Saigon, I instantly felt comfortable -- like I was really back home again.
The following travelogue/photo essay is split between my adventures in the southern and northern halves of Viet Nam. It just so happens that my journey was divided into these two parts, as we didn't have enough time to visit cities such as Nha Trang and Hue in central Viet Nam. But I guess this split also reflects the history and tradition of Viet Nam constantly trying to both unite and differentiate at the same time its North with its South. Although I spent 75% of my time in the South, I actually took a lot more pictures in the North. That was because in the South, I was usually too busy hanging out and having fun to play tourist.
Click on the thumbnail below for the full-size picture and description in a pop-up window
| | |
| --- | --- |
| Street Life in Saigon | One View of Downtown Saigon |
| City Traffic | Shops & Businesses |
| Rowing Down the Mekong River | Living on the Mekong |
If you enjoyed these pictures from Viet Nam,
Send them to someone as an e-card!

Author Citation
Copyright © 2001- by C.N. Le. Some rights reserved.
Suggested reference: Le, C.N. . "A Personal Journey -- The South" Asian-Nation: The Landscape of Asian America. <http://www.asian-nation.org/vietnam-south.shtml> ().
Related Articles and Blog Posts