The following is a reprint of an article entitled "Vietnamese Media Bare Their Teeth - Carefully," written by Andrew Lam of the Pacific News Service and originally published on January 17, 2003. It is a very interesting description of how Viet Nam's media outlets are becoming bolder and less restricted by the communist government, but also about how true freedom of press is still an illusion.
You've Come a Long Way, Baby
From woman's magazines to tabloids to newspaper exposes of gangsterism and government corruption, media in Vietnam are flexing their muscles. But taboo topics remain. Writers and editors who call for political pluralism or criticize government policy take huge risks. At a typical newsstand here in the capital, colorful magazines and newspapers jostle for space like mosaic tiles on a church wall. More than 65 publications cram a single stand. From Woman's Forum to Youth, from Liberated Saigon to New Hanoi, from Vietnam Economic News to Beautiful Home, the choices are staggering.
Since the Vietnamese doi moi, or perestroika -- which really picked up after the Soviet Union collapsed -- Vietnam has been experiencing a kind of cultural renaissance. For the country's news media, the changes are more like a big bang. "Ten years ago, we had only a few state-controlled newspapers, mostly serving as the propaganda machine for the party," observes Quang Nguyen, a college student in Hanoi. "All news about Western capitalist countries tended to be negative. Now, we have newspapers of all kinds, both quality and tabloid. There are also more academic journals, as well as some good programs on TV."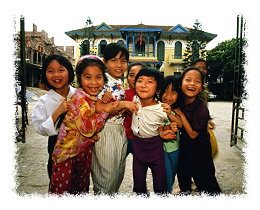 Surprisingly, all these papers and magazines are still under the control of the communist government. But longtime observers say the trend is toward media liberalization. Though there are no privately owned papers, many publications increasingly find more space to maneuver. They need that freedom -- the majority, unless they are official government mouthpieces, must survive without much government funding. They may pay lip service to communist ideology to appease the party, but these publications survive on advertising money and readership.
Perhaps accordingly, Vietnamese newspapers and magazines have become more bold. A few years ago in the most popular newspaper in Ho Chi Minh City, called Tuoi Tre, or Youth, a poll found that more young people identified Bill Gates as their personal hero than the long-dead leader Ho Chi Minh. Police quickly pulled copies of the paper from stands and burned them. The paper's chief editor was fired. Some of the copies nevertheless got distributed and the story became popular lore. But even the BBC picked it up.
Hot Off The Presses
So what's in the hottest story of late? The impending U.S. war with Iraq is reported with far less fervor and interest than what some are calling the trial of the century. That's the story of Nam Cam, a Saigonese kingpin who became a multi-millionaire by operating a gambling and prostitution empire in Ho Chi Minh City. A former South Vietnamese soldier, Cam's connections are wide, and the papers claim that he is personally linked to high-ranking communists, especially those from the South.
The story has all the elements of a Hollywood movie. Nam Cam, along with dozens of accomplices, had been under arrest for allegedly having his lesbian gangster rival, Dung Ha, assassinated. Ha, based in North Vietnam in Hai Phong province, moved to Saigon and tried to break up Cam's operations. But Ha apparently sealed her own fate when, on Nam's birthday, she sent feces-covered rats in boxes as gifts to humiliate Cam in front of his many VIP guests.
A middle aged business man named Long Tran, a southerner, says there is an art to deciphering such stories. Many, he says, are about longstanding regional differences. "I read this mafioso's arrest as about the northern communists trying to undermine the power of southern communists. Cam's support was linked to former Prime Minister Vo Van Kiet, who was the only southerner of high-ranking position. High-ranking officers from Hanoi allow the papers to report on this issue. But you don't read about kingpins in Hanoi. It's forever an internal North-South power play."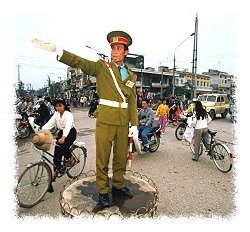 But Tran readily admits that regardless of motive, the new liberalization in the media is real. "It is the communist government's effort to gain legitimacy. It encourages participation in building the state. So you can write in to suggest how the government can reform its policies -- you can even criticize corruption." For some of the younger, educated, urban generation, however, who watch CNN and access the Internet, the Vietnamese media is still too restrained. "Liberalizing media is still not a free media," says a Vietnamese Fulbright scholar who asked to remain anonymous.
"A multiparty system and human rights issues are still taboo topics," the scholar says. "I have not seen anything in the media about the situation of the mountain people whose land is being confiscated, or about Vietnam giving away land to China. News about religious and political dissidents under house arrest is also never made public." The line, he says, is clear. If you write in and suggest there should be political pluralism, you could be arrested. Even so, there are those who risk it all and publish controversial works online. The lawyer Le Chi Quang, 32, was arrested a few months ago for writing an online article criticizing land and sea border agreements with China. Writer Nguyen Vu Binh was arrested for doing the same.
Despite Vietnam's constitutional guarantees of a free press, dissidents still take considerable risks to speak out. But the fact that some do -- and that some muckrakers and bold editors and writers are pushing the envelope despite threats -- says something about the Vietnamese media. Though still on a leash, it is beginning to bare its teeth.

Author Citation
Copyright © 2003 by Andrew Lam. Reprinted in accordance with Section 107 of the U.S. Copyright Act of 1976.
Suggested reference: Lam, Andrew. 2003. "Viet Nam's Freedom of Press" Asian-Nation: The Landscape of Asian America. <http://www.asian-nation.org/vietnam-press.shtml> ().

Pacific News Service Associate Editor Andrew Lam (lam@pacificnews.org), a recent Knight Fellow at Stanford University and a short story writer, reports from Hanoi.
Related Articles and Blog Posts