The drive for success and status within Asian American culture can be quite intense. For many, being a medical doctor is considered to be the pinnacle of achievement and virtually nothing can make an Asian parent more proud than having his/her son or daughter reach the status of joining the medical profession. At the same time, many young Asian Americans resent the pressure, direct and indirect, that their parents place on them to become a doctor. As this article describes, originally written by Ji Hyun Lim and printed in the October 12, 2001 issue of AsianWeek Magazine, many Asian Americans continue to struggle with the challenges, rewards, and drawbacks that come with being an Asian American doctor.
The Drive to 'Arrive'
Since William Peterson first coined the term "model minority" in his article, "Success Story: Japanese American Style," in The New York Times Magazine in 1966 -- Asian Pacific Islander Americans have carried the stereotype of a hard working, education-hungry, social ladder-climbing group. Notions that APIAs study harder, do better in weed-out courses like physics and biology, and achieve better scores on standardized testing all fit into the model minority myth. These expectations put a relatively high percentage of APIAs on the path to one of the toughest and most respected fields -- medicine.
Yet 30 some years after APIAs were dubbed the model minority, many are still suffocating under its pressure. But even those APIAs who are offered spots at university programs and go on to practice, say they are confronted with a "glass ceiling" when trying to attain higher positions, such as head of a department, adminstrator or member of an academic faculty. Although it may be true that the APIA presence in the field of medicine has increased, Daya Sandu, associate professor of psychology at the University of Louisville, points out that the stereotype of the "Asian American health professional" can be debilitating. She says that such labeling may cause health concerns and psychological afflictions, such as threats to cultural identity, powerlessness, feelings of marginalization and loneliness.
APIAs who want to become doctors often deal with societal pressures to fit the "model minority" mold, family pressures to achieve, and academic pressures to persevere through difficult years as an undergrad, medical student, intern, resident and physician. In medical school, some APIA students realize developing a personal identity is more complex than fitting the stereotype as a "model minority." Striking a balance between socially constructed identities and their true selves becomes a challenge.
APIA Numbers Increasing in Medical Schools
Undeniably, the numbers of APIAs who enter the field of medicine are up. Many APIAs have been filling the slots in medical schools across the country and even outside the country, in the Caribbean, for example. According to a University of California, San Francisco study by Hall, FR and Associates ("Longitudinal trends in the applicant pool for U.S. medical schools 1974-1999"), APIA applicants grew from 986 in 1974 to 7,622 in 1999. Statistics show that more women are represented in the field of medicine, from 20 percent of the pool in 1974 to 45 percent in 1999. Sixty-five percent of APIA women students reported that their parents put varying degrees of pressure on them to become doctors, based on Hall's study on APIA women in medical school. Furthermore, many women are delaying personal responsibilities, like marriage and family, to pursue the career.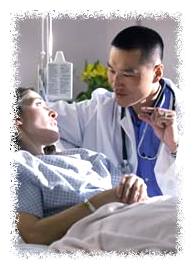 Melanie Chatterjee, a former student of American University in the Caribbean, said that her family encouraged her to go into the medical field. She realizes the sacrifices that she must make to pursue her career as a doctor. "You have to think about what your priorities are when you get older," Chatterjee says. "You may get married, have a family, want to spend time with your family and not work all the time. I had this all in mind -- that part of my life is a few years away and [I am] focusing on my career now."
Shabana Khan, a fourth year medical student at Chicago Medical School (affiliated with Finch University of Health Sciences) said her parents wanted her to pursue the career to be financially independent. She observes that divorce rates are high and does not want to depend on a spouse for financial support. "In the back of my parent's mind, they want to think that if something ever happened to me, I wouldn't be stranded," she says.
Tina Wong, a 24-year-old medical student at University of Southern California agrees that more women are choosing medicine as a field of study. Based on her understanding that 52 percent of medical students are women and 48 percent of the students are men at her school, she finds that career before marriage has become an acceptable route. Says Wong: "As a woman, you need to go to professional school and be independent and take care of yourself. It's the influence of peers and family. My mom is a strong woman and she was an architect who divorced but was fine on her own. She told me not put all my eggs in one basket, for one man. I have the personality that no matter what I do, I won't be sitting around. I'm going to need help raising my kids, but I'm confident I want to be a doctor."
The Ins And Outs of Becoming a Med Student
Many APIAs who apply to medical school aren't accepted. Others, who do get in, have to settle for second-tier schools. Some even attend schools outside the country and and get licensed in the United States. "In law and business school, you need to be in the top 20 schools to get a job," Khan says. "[But] in medical school, it's so hard to get in that people go to foreign medical schools." Many APIAs choose to attend foreign schools when they are not accepted to a school in the United States. For example, SABA University School of Medicine in the Caribbean is licensed in 33 states, and third- and fourth-year students can see patients in over 60 hospitals in 27 states. Forty to 45 students are accepted every semester and spend their first two years studying basic sciences. The student body totals 500 at any given time, and every year, 250 return to the United States for clinical rotation.
For those who do not get into medical school the first time around, MCP Hahnemann University offers a program to give those applying for a second time an edge. The Post Baccalaureate Program curriculum consists of 70 percent of first-year medical school coursework. Among students who get a "B" or better in the program, more than 95 percent subsequently get into medical school. According to program director Jerry Soslan, close to 30 percent of the 2001 class is Asian and APIA. "Every student that enters the program needs to have a high level of motivation," Soslan says. "As a group, Asian students tend to work as vigorously and rigorously as everyone else. In America, kids tend to come from the family with a 'you'll learn it tomorrow' attitude and in Asian cultures, there's more emphasis on excellence."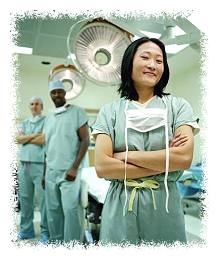 Soslan says that foreign-born Korean or Vietnamese students have a level of respect for the faculty that "goes beyond reality." "When people work in my lab, I think of them as colleagues and it's first-name basis and they refuse to do that -- it was unacceptable to them because they thought it was a effrontery to showing respect," Soslan says. He continues, "The Korean boy was not able to make eye-contact because he was brought up that if you stare at a professor in the face, it shows a lack of respect. It goes counter to everything that goes on in medical school."
In Wong's experience, though, she says her fellow APIA students are not stereotyped by professors because they are not considered minorities in medical school. As an undergraduate, she noticed disproportionate numbers of Asians and Persians in her pre-med classes but upon entering med school, she saw that the classes became more diverse. "It seemed a common theme [to excel], that was expected of us," she says. "It was so ingrained in us. Our peers were doing well and working hard and had professional school in mind, and it worked for us, not against us."
Organizing to Smash the Glass Ceiling
B. Li, of Asian Pacific American Medical Student Association (APAMSA) and professor at Northwestern University, points out there is a "glass ceiling" for the higher ranked positions in the field of medicine. In his speech at an APAMSA conference titled, "The Gangsmanship of the Wards," he discussed how traditional Asian values and culture teach students to respect elders, talk only when spoken to, be passive, and not question authority. With these qualities, some students, he argues, may be perceived as uncaring or uninterested in health care. Sometimes, they are labeled as followers, not leaders, despite other skills they may possess. This, in turn, may hinder their subsequent advancement.
In the field of medicine, the percentage of APIA clinicians is disproportionately higher than that of doctors filling policy-making positions such as department chief, administrator or medical professor, according to the U.S. Equal Employment Opportunity Commission. Francis Lu, professor of psychiatry at UCSF -- who attended medical school from 1971-1974 -- points out that 19 percent of medical students are APIA compared to 8 to 9 percent when he attended. But that "percentage doesn't parallel the faculty," Lu said. "It's 6 to 7 percent of APIA faculty."
"Frustrations related to managerial aspirations are likely to be suppressed or internalized as personal deficits or else indirectly manifested," says Deborah Woo, who conducted a report for the U.S. Department of Labor's Glass Ceiling Commission. That may include adjustments or changes in work habits, greater involvement or lowered work performance, job transfers, and the development of alternative career pursuits outside the primary area of employment, Woo reported. Lu says that occasionally he runs across the stereotype that certain APIA med students are quieter. They may feel they're poorly graded because they're not as assertive as other students. With the relative lack of APIA faculty and administrators, students might feel a lack of support or mentoring, says Lu. At UCSF, the Asian Health Caucus has attempted to fill the gaps by offering mentoring nights.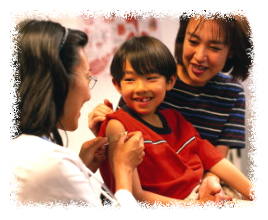 Even for those APIAs who finish school and begin practicing, it still can be difficult. Soslan explains that racial prejudices exist. Some patients are leery of doctors who speak with an accent. Some people refuse to be treated by a dark-skin physician whether he or she is Indian or African, explains Soslan. He recalls the time an Indian doctor was in the emergency room with a patient, and the patient asked for a "real" doctor. Furthermore, Dr. Sam So of Stanford University and former head of the Pediatric transplant at Washington University, observes, "Academic medical surgery is dominated by white males -- you pick a person because you feel comfortable around them and share the same background. "It's an old boy's club and all ethnic groups -- including women -- need to work toward greater presence in those communities."
APAMSA was established in 1995 by a group of medical students because they felt the community needed a voice within the medical system. Their aim is to address health concerns of the APIA community that medical schools fail to address, issues such as cultural competence related to APIA health care, as well as cultural differences that physicians may not be aware of. The president of APAMSA, Vincent Hau, says that cultural misunderstanding could be detrimental to treating patients. APAMSA also provides medical students with a community. Many share the same interests. Often, they can relate to each other's backgrounds. They support each other through local chapters, regional conferences, and a national organization.
Moreover, they act as mentors for high school and undergraduate pre-med students and give advice on residency programs. "These students are down-to-earth everyday people and not over anxious about the process, because we provide information on how to get through it," Hau says. Hau adds the biggest concern is that APIA health community not be neglected, especially in regard to special programs for minority groups. Says Hau: "Asian Americans are overlooked because we're considered the model minority group and government institutions assume everything is OK [in the APIA medical community.]"

Author Citation
Copyright © 2001 by Ji Hyun Lim and AsianWeek Magazine. Reprinted in accordance with Section 107 of the U.S. Copyright Act of 1976.
Suggested reference: Lim, Ji Hyun. 2001. Doctors: The APA Dream Profession" Asian-Nation: The Landscape of Asian America. <http://www.asian-nation.org/doctors.shtml> ().
Related Articles and Blog Posts