There are certainly many old and traditional aspects of Asian American culture of which Asian Americans are proud. Nonetheless, there are many other new and exciting innovations that constantly shape the new generation of Asian Americans. This section focuses on one of the more unique and popular contemporary ones among today's Asian American youth -- the import/compact racing/tuner scene.
The History and Basics of the Scene
"Generation Y" kids of today will tell you that as a "Generation X" guy, I am probably way over the hill to intimately detail what's hip and hot among Asian American youth today. I would not dispute that. So therefore, I will not try to be exhaustive in describing their scene. However, the one element with which I am most familiar (although not completely) is the import/compact racing/tuner scene.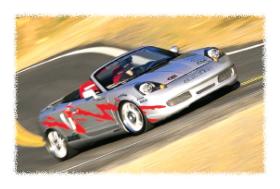 Cars and specifically, modifying and customizing cars have always been popular with American youth, especially in California. First there was the hot rod and muscle car days in the 1950s and 1960s. In the mid and late 1980s there was the mini-truck scene. Then starting in the early 1990s, following the lead of a small group of young enthusiasts in Japan, kids in southern California turned their attention to modifying compact imports in droves.
These included such cars as the Honda Civic and Accord, Acura Integra, Mitsubishi Eclipse, and the Toyota Supra and MR2, to name the most popular ones. The import/compact scene has also recently expanded to include more expensive European and Japanese luxury marques such as BMW, Lexus, Infiniti, Mercedes, and Audi and even high performance "crotch rocket" motorcycles from Kawasaki, Honda, Yamaha, Suzuki, and Buell.
These modifications designed for higher performance generally include less-restrictive air intakes and exhaust systems, exhaust headers, reprogrammed engine computers, lighter flywheels and underpulley components, larger and lower-profile wheels and tires, lower springs and shocks, adding turbochargers, superchargers, or nitrous oxide systems, and swapping engines.
The car's body can also be customized using body kits, large rear wings, bright paint jobs and graphics, xenon headlights, and clear cornering lamps and taillights. Finally the car's interior gets treated to new seats, aluminum or carbon fiber trim, high-output stereo, DVD, and LCD or television multimedia systems, and other elaborate custom touches. The result is a unique subculture than has since spread to the entire country and internationally.
This import and sport compact racing and tuner phenomenon is not limited to Asian Americans of course, but they are the primary participants and the racial/ethnic group most associated with it. Sociologists also note that because Asian Americans have been at the forefront of this new social phenomenon, they have largely created this subculture by themselves. In addition to modifying their cars just for show, many participants race their cars.
In the beginning, many participated in illegal drag races on public streets. But today, local and regional drag races at proper race tracks are officially sanctioned by four major national racing organizations and regularly attract hundreds of participants and thousands of spectators. In addition, drifting exhibitions and competitions are becoming increasingly popular, as participants try to outdo each other in sliding their cars sideways.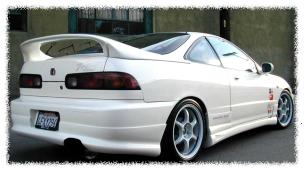 Today, the import scene has flourished and broadened into the "sport compact" and "tuner" scene to include cars from all over the world and has become very mainstream as major automotive publications cover it, movies such as The Fast and the Furious and its sequel 2 Fast, 2 Furious have become box office hits, and an entire aftermarket industry has developed around it.
Further, wanting their own slice of the pie, major car manufacturers are now "racing" to produce their own factory hot-rod compacts. Recent examples include the Subaru STi, Ford Focus SVT, Honda Civic Si, Nissan Sentra SE-R Spec V, Dodge Neon and Caliber SRT-4, Mazdaspeed 3, Mitsubishi Evo, Mini Cooper S, Saturn Ion Red Line, Toyota Corolla XRS, Volkswagen GTI and R32, and Chevy Cobalt SS and HHR SS to name just a few.
Growing Pains Within The Scene
Unfortunately there have been some critics of this Asian American import racing scene. Recently, many are accusing those involved in the import/sport compact scene of contributing to increased accidents and deaths due to illegal racing on public streets. They argue that the popularity of the import/sport compact scene has gotten out of hand and that participants (especially teenagers) may have lots of money and expertise in making their cars fast but very little experience in keeping their cars under control.
As a result of these rising concerns perceived crisis, and parallel to their efforts aimed at dealing with street gangs, many local police departments are increasingly targeting souped-up cars and their predominantly young Asian drivers who they suspect are associated with illegal street racing. Also similar to the tactics surrounding street gangs, many Asian Americans respond by noting that this authoritarian response is nothing more than a new form of profiling and harassment -- an entire community being punished for the irresponsible acts of only a few.
Nonetheless, criticism of the import/compact racing scene can come from within the Asian American community as well. For example, some Asian Americans note that this kind of activity is purely materialistic and may set a bad example for young Asian Americans, who are socialized to think that being happy in life means conforming to a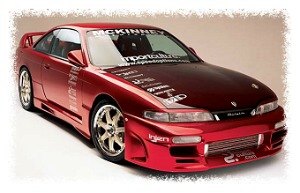 "superficial" image of driving fancy cars, wearing the latest fashions, and trying to impress the opposite sex. Others (primarily non-Asians) sometimes accuse the Asian American youth involved as being spoiled, or lazy, and having everything given to them by rich parents.
Further adding "fuel to the fire," some in the auto insurance industry have even claimed that a large portion of the import scene is financed through auto theft and insurance fraud, although the insurance industry has yet to offer much proof to substantiate their allegations. Unfortunately, these particular criticisms again play off the stereotype that all Asians are affluent or the "Fu Manchu" or "Ming the Merciless" stereotype of Asians as somehow being inherently devious or immoral.
These critics are completely ignorant of the fact that the overwhelming majority of those involved work hard and honestly and finance their activities themselves, legitimately. It's sad that as young Asian Americans seek to develop their own subculture that gives them pride, they're attacked from within and outside of their community.
While it's certainly possible to go to extremes in the import/sport compact racing/tuner scene, Asian Americans should feel proud that they've spawned a subculture with unique characteristics and a distinct look that, at least in the beginning, has largely reflected young Asian American cultural elements. It's not every day that you help to create a new subculture.

Author Citation
Copyright © 2001- by C.N. Le. Some rights reserved.
Suggested reference: Le, C.N. . "Import/Sport Compact Racing/Tuner Scene." Asian-Nation: The Landscape of Asian America. <http://www.asian-nation.org/import-racing.shtml> ().
Related Articles and Blog Posts