August 17, 2009
Written by C.N.
If you haven't heard already, this past Sunday, South Korean Y.E. Yang won the Professional Golf Association (PGA) Championship by stunning heavy favorite Tiger Woods. This was Yang's first 'major' PGA win (there are four tournaments each year that are considered "majors" — the Masters, the U.S. Open, the British Open, and the PGA Championship) and only his second overall PGA victory, while Tiger had been undefeated when leading a major PGA tournament going into the final round. As Sports Illustrated points out, this was also the first major PGA victory by an Asian-born player: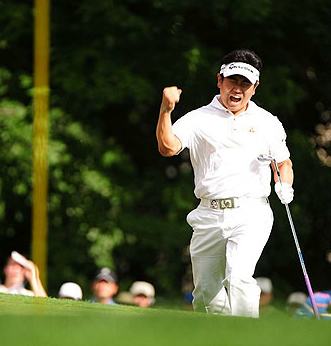 [Yang's victory was] memorable as much for his clutch shots as the player he beat. Woods was 14-0 when he went into the final round of a major atop the leaderboard. He had not lost any tournament around the world in nine years when leading by two shots.

None of that mattered to Yang, a 37-year-old South Korean who hit the shots everyone expected from Woods. Leading by one on the final hole, Yang slayed golf's giant with a hybrid 3-iron that cleared the bunker and settled 12 feet from the cup. Yang made the birdie putt and shouted with joy as he pumped his fist. That gave him a 2-under 70, and a three-shot victory. . . .

His victory is massive for Asia, the fastest-growing market in golf. Perhaps even more significant is that the way he stood up to Woods, the world's No. 1 player whose heritage is half-Asian through his Thai-born mother. Yang and K.J. Choi are the only PGA Tour players who learned golf in South Korea before coming to America. South Koreans have had far more success on the LPGA Tour, with seven players combining to win 11 majors. . . .

Asian-born players had come close in the majors – Liang-Huan Lu of Taiwan finishing one shot behind Lee Trevino at the 1971 British Open, and T.C. Chen's famous two-chip gaffe that cost him a chance at the 1985 U.S. Open, where he was runner-up to Andy North. This could be a big breakthrough for Asian players, especially with a World Golf Championship starting this year in China.
First, Yang's victory is a significant individual achievement for him as a professional golfer. Not only is this victory his first major win, but it was just his second overall PGA win. Very few golfers are able to win a major with such a relatively short victory list. He was ranked just 110th in the world (with Tiger ranked at #1) and actually had to do well in supplemental tournaments in order to qualify to play in a major such as this PGA Championship. So a win like this is certainly significant for him personally.
Secondly, Yang's victory is also representative of a larger emerging trend — how golf is increasingly become more Asian and Asian American. It was Tiger Woods (who is half Asian and half Black) who first started this trend when he burst on the scene 13 years ago. Then women's professional golf (the Ladies' Professional Golf Association, LPGA) saw an influx and emergence of several successful Asian and Asian American golfers (many from South Korea), with Se Ri Pak being the first. Then last year, Asian American Anthony Kim had his coming out party, helping the U.S. team beat the Europeans in dramatic fashion at the prestigious Ryder Cup.
The video clip from CNN discusses the recent emergence of golf in Asia:
I would not be surprised to see more Asian and Asian American golfers emerge and achieve consistent success in the next few years. In fact, in addition to Anthony Kim, another South Korean, K.C. Choi, has been making a name for himself recently as well. It remains to be seen whether such Asian and Asian American golfers can achieve the same level of success as their female counterparts in the LPGA and whether any of them can dethrone Tiger Woods as the number one golfer on the planet (no player has for any extended amount of time in the past 13 years).
Nonetheless, I'm confident we'll be hearing names like Yang, Choi, Kim, and other Asian surnames more often in the years to come.