January 10, 2011
Written by C.N.
For those who are not yet familiar, the East Coast Asian American Student Union (ECAASU) is the largest Asian American student organization in the U.S. Founded in 1977, its main activity is putting on the largest Asian American intercollegiate student annual conference in the country. For 2011, the conference will be held at my college, the University of Massachusetts, Amherst from Friday Feb. 18 through Saturday Feb. 19.
I and my colleagues in Asian American Studies at UMass Amherst and around the Five College area (this includes Amherst College, Smith College, Mt. Holyoke College, and Hampshire College) are very pleased and excited to see that UMass Amherst is hosting the ECAASU conference this year. It's shaping up to be a very rich and interesting schedule of workshops, presentations, social and cultural activities, and entertainment focused on a wide range of issues, so I encourage everyone to register and attend. Below is the announcement from the ECAASU organizers: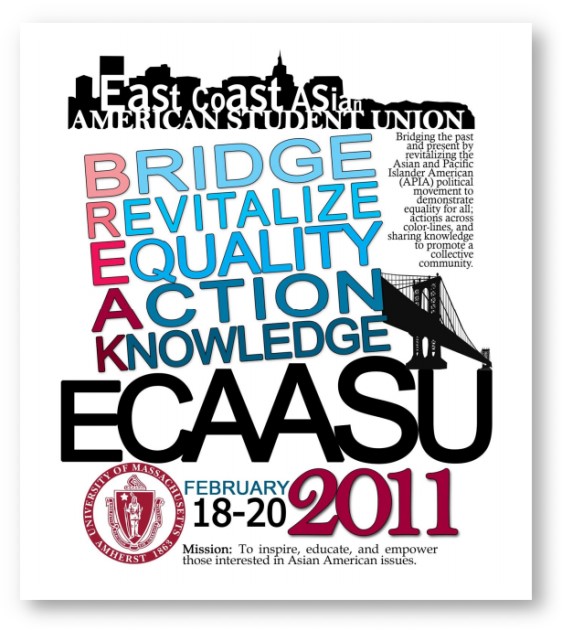 The mission of ECAASU is to:

Strengthen Asian American student organizations through intercollegiate communication to serve the educational and social needs of Asian American students
Advance the social equality of minorities by eliminating prejudice and discrimination, defending human and civil rights, and combating racism and hate crimes through activities permissible under section 501(c)(3) of the Internal Revenue Code
Encourage Asian Americans to participate in the electoral process through nonpartisan voter education/registration and "get out the vote" drives that are not restricted to one election period and are executed in more than five states
Promote community-building and understanding among Asian Americans with different nationalities and people of color.

Since its inception during the late 1970s the conference has expanded to serve multiple purposes. Conference organizers have offered educational workshops, leadership training seminars, professional career counseling, facilitated social networking opportunities, and featured various rising talents in our ceremonies. To further inspire attendees, prominent keynote speakers have been brought in to address pertinent issues within the Asian American community. Due to these many offerings, the conference has skyrocketed in popularity attracting anywhere from 1,200 to 1,500 students per assembly.

One of the primary objectives of the conference is to encourage intergenerational dialogue between members of the Asian Pacific American community and also facilitate increased cross cultural dialogue between all members of the African, Latino, Asian, and Native American (ALANA) populations. This conference was designed to be a haven for learning and cooperation. Through various approaches, conference organizers have strived to inspire our guests to recognize and appreciate the relationships in our connected backgrounds,
experiences, and perspectives.

For more information on speakers, workshops, entertainers, accommodations, logistics, and how to register please feel free to visit the ECAASU 2011 website. Registration is $55 up to December 31, $60 up to January 31, $65 up to February 1-4, and TBA for February 5 and later. The registration fee covers three meals, one midnight snack, workshops, performers, speakers, and facilities rental/maintenance.
Some of the conference's presenters and speakers that I have written about in my blog include Vijay Prashad, Eric Byler, Curtis Chin, Phil Yu, and Miliann Kang. I will be conducting a workshop on "Bridging Asian, American, and Asian American Identities in the 21st Century."
You can also click on any of the following for a PDF with more information on:
Hope to see you there!