December 27, 2010
Written by C.N.
As part of this blog's mission of making academic research and data more easily accessible, understandable, and applicable to a wider audience and to practical, everyday social issues, I highlight new sociological books about Asian Americans and other racial/ethnic groups as I hear about them. A book's inclusion is for informational purposes only and does not necessarily mean a full endorsement of its contents.
The start of a new year represents a renewal of hope for many people. In this case, one of my hopes is that, as a nation and society, we as Americans can continue to strive toward racial/ethnic justice and equality and to overcome the individual-, group-, and institutional challenges that get in the way of recognizing and internalizing the many benefits that a diverse and multicultural society provides us. To help in this process, these new books give us some examples of how we as Americans can become more united across racial, ethnic, and cultural divides.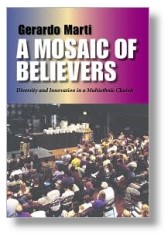 Mosaic in southern California is one of the largest and most innovative multiethnic congregations in America. Gerardo Marti shows us how this unusual church has achieved multiethnicity, not by targeting specific groups, but by providing multiple havens of inclusion that play down ethnic differences. He reveals a congregation aiming to reconstruct evangelical theology, personal identity, member involvement, and church governance to create an institution with greater relevance to the social reality of a new generation.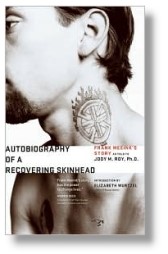 Autobiography of a Recovering Skinhead is Frank Meeink's raw telling of his descent into America's Nazi underground and his ultimate triumph over drugs and hatred. Frank's violent childhood in South Philadelphia primed him to hate, while addiction made him easy prey for a small group of skinhead gang recruiters. By 16 he had become one of the most notorious skinhead gang leaders on the East Coast and by 18 he was doing hard time.

Teamed up with African-American players in a prison football league, Frank learned to question his hatred, and after being paroled he defected from the white supremacy movement and began speaking on behalf of the Anti-Defamation League. A story of fighting the demons of hatred and addiction, Frank's downfall and ultimate redemption has the power to open hearts and change lives.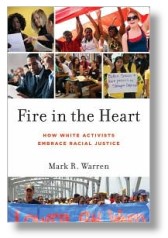 Fire in the Heart uncovers the dynamic processes through which some white Americans become activists for racial justice. The book reports powerful accounts of the development of racial awareness drawn from in-depth interviews with fifty white activists in the fields of community organizing, education, and criminal justice reform.

Drawing extensively on the rich interview material, Mark Warren shows how white Americans can develop a commitment to racial justice, not just because it is the right thing to do, but because they embrace the cause as their own. Contrary to much contemporary thinking on racial issues focused on altruism or interests, Warren finds that cognitive and rational processes alone do little to move whites to action.

Rather, the motivation to take and sustain action for racial justice is profoundly moral and relational. Warren shows how white activists come to find common cause with people of color when their core values are engaged, as they build relationships with people of color that lead to caring, and when they develop a vision of a racially just future that they understand to benefit everyone — themselves, other whites, and people of color. Warren also considers the complex dynamics and dilemmas white people face in working in multiracial organizations committed to systemic change in America's racial order, and provides a deeper understanding and appreciation of the role that white people can play in efforts to promote racial justice.

The first study of its kind, Fire in the Heart brings to light the perspectives of white people who are working day-to-day to build not a post-racial America but the foundations for a truly multiracial America rooted in a caring, human community with equity and justice at its core.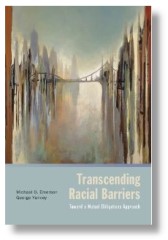 Despite recent progress against racial inequalities, American society continues to produce attitudes and outcomes that reinforce the racial divide. In Transcending Racial Barriers, Michael Emerson and George Yancey offer a fresh perspective on how to combat racial division. They document the historical move from white supremacy to institutional racism, then look at modern efforts to overcome the racialized nature of our society. The authors argue that both conservative and progressive approaches have failed, as they continually fall victim to forces of ethnocentrism and group interest.

They then explore group interest and possible ways to account for the perspectives of both majority and minority group members. They look to multiracial congregations, multiracial families, the military, and sports teams-all situations in which group interests have been overcome before. In each context they find the development of a core set of values that binds together different racial groups, along with the flexibility to express racially-based cultural uniqueness that does not conflict with this critical core.

Transcending Racial Barriers offers what is at once a balanced approach towards dealing with racial alienation and a bold step forward in the debate about the steps necessary to overcome present-day racism.