February 8, 2010
Written by C.N.
I just wanted to add my congratulations to the New Orleans Saints for decisively winning Super Bowl 44 over the Indianapolis Colts. As a football fan, and like most people, I expected the Colts would prevail. But after being down 10-0 early in the game, the Saints stayed patient, made some gutsy calls, took control of the game, and ultimately came out on top.
As a sociologist, and again like many people have been saying, this victory is more than just a single game — it is a celebration for the entire city of New Orleans, a city that was devastated a few years ago by Hurricane Katrina and in many ways, is still trying to recover. This win by their home team brings much joy and inspiration to the residents of the city from all racial/ethnic backgrounds and should go a long way in restoring New Orleans' spirits and economic prospects.
Much of the attention on New Orleans since the Katrina episode has been focused on its African American residents and rightfully so — despite making up a majority of the city's population, they suffered much inequality and neglect before Katrina and its aftermath only made matters worse. Like the rest of the city, African American residents of New Orleans are on their road to recovery and this win by the Saints is a fitting symbol of their community's resurgence.
At the same time, I would also like to remind everyone that there is a large Vietnamese American population in New Orleans and that they have not received much attention at all since Katrina. In fact, shortly after Katrina, the Vietnamese community had to fight their own city over a proposed toxic landfill that was going to be located adjacent to their neighborhood.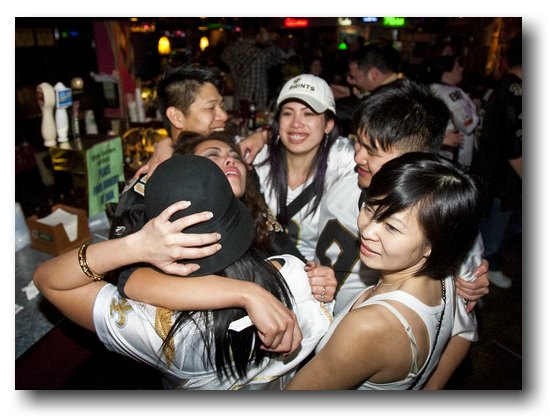 In the years since, the Vietnamese American community in New Orleans has rebuilt their lives, their neighborhood, and have continued to contribute to the economic and cultural rebuilding of the city. Let us now forget them as we as Americans from all racial, ethnic, cultural, and ideological celebrate the Saints' Super Bowl win and its sociological significance for the city and all of its residents.