September 21, 2011
Written by C.N.
Below are some recently-released books that highlight the connections between past and present in the lives of Asian Americans. As scholars and philosophers will tell you, knowing where a particular group or nation has been is the first step towards knowing where they are going. As always, a book's inclusion is for informational purposes only and does not necessarily mean a full endorsement of its contents.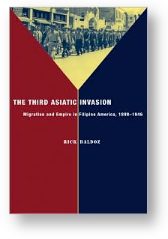 The first half of the twentieth century witnessed a wave of Filipino immigration to the United States, following in the footsteps of earlier Chinese and Japanese immigrants, the first and second "Asiatic invasions." Perceived as alien because of their Asian ethnicity yet legally defined as American nationals granted more rights than other immigrants, Filipino American national identity was built upon the shifting sands of contradiction, ambiguity, and hostility.

Rick Baldoz explores the complex relationship between Filipinos and the U.S. by looking at the politics of immigration, race, and citizenship on both sides of the Philippine-American divide: internationally through an examination of American imperial ascendancy and domestically through an exploration of the social formation of Filipino communities in the United States. He reveals how American practices of racial exclusion repeatedly collided with the imperatives of U.S. overseas expansion. A unique portrait of the Filipino American experience, The Third Asiatic Invasion links the Filipino experience to that of Puerto Ricans, Mexicans, Chinese and Native Americans, among others, revealing how the politics of exclusion played out over time against different population groups.

Weaving together an impressive range of materials–including newspapers, government reports, legal documents and archival sources—into a seamless narrative, Baldoz illustrates how the quixotic status of Filipinos played a significant role in transforming the politics of race, immigration and nationality in the United States.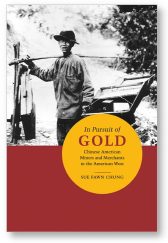 Both a history of an overlooked community and a well-rounded reassessment of prevailing assumptions about Chinese miners in the American West, In Pursuit of Gold brings to life in rich detail the world of turn-of-the-century mining towns in the Northwest. Sue Fawn Chung meticulously recreates the lives of Chinese immigrants, miners, merchants, and others who populated these towns and interacted amicably with their white and Native American neighbors, defying the common perception of nineteenth-century Chinese communities as insular enclaves subject to increasing prejudice and violence.

While most research has focused on Chinese miners in California, this book is the first extensive study of Chinese experiences in the towns of John Day in Oregon and Tuscarora, Island Mountain, and Gold Creek in Nevada. Chung illustrates the relationships between miners and merchants within the communities and in the larger context of immigration, arguing that the leaders of the Chinese and non-Chinese communities worked together to create economic interdependence and to short-circuit many of the hostilities and tensions that plagued other mining towns.

Peppered with fascinating details about these communities from the intricacies of Chinese gambling games to the techniques of hydraulic mining, In Pursuit of Gold draws on a wealth of historical materials, including immigration records, census manuscripts, legal documents, newspapers, memoirs, and manuscript collections. Chung supplements this historical research with invaluable first-hand observations of artifacts that she experienced in archaeological digs and restoration efforts at several of the sites of the former booming mining towns.

In clear, analytical prose, Chung expertly characterizes the movement of Chinese miners into Oregon and Nevada, the heyday of their mining efforts in the region, and the decline of the communities due to changes in the mining industry. Highlighting the positive experiences and friendships many of the immigrants had in these relatively isolated mining communities, In Pursuit of Gold also suggests comparisons with the Chinese diaspora in other locations such as British Columbia and South Africa.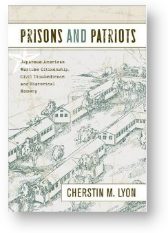 Prisons and Patriots provides a detailed account of forty-one Nisei (second-generation Japanese Americans), known as the Tucsonians, who were imprisoned for resisting the draft during WWII. Cherstin Lyon parallels their courage as resisters with that of civil rights hero Gordon Hirabayashi, well known for his legal battle against curfew and internment, who also resisted the draft.

These dual stories highlight the intrinsic relationship between the rights and the obligations of citizenship, particularly salient in times of war. Lyon considers how wartime civil disobedience has been remembered through historyohow soldiers have been celebrated for their valour while resisters have been demonized as unpatriotic. Using archival research and interviews, she presents a complex picture of loyalty and conflict among first-generation Issei and Nisei.

Lyon contends that the success of the redress movement has made room for a narrative that neither reduces the wartime confinement to a source of shame nor proffers an uncritical account of heroic individuals.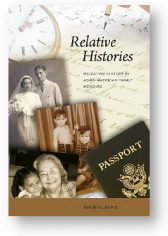 Relative Histories focuses on the Asian American memoir that specifically recounts the story of at least three generations of the same family. This form of auto/biography concentrates as much on other members of one's family as on oneself, generally collapses the boundaries conventionally established between biography and autobiography, and in many cases—as Rocío G. Davis proposes for the auto/biographies of ethnic writers—crosses the frontier into history, promoting collective memory.

Davis centers on how Asian American family memoirs expand the limits and function of life writing by reclaiming history and promoting community cohesion. She argues that identity is shaped by not only the stories we have been told, but also the stories we tell, making these narratives important examples of the ways we remember our family's past and tell our community's story.

In the context of auto/biographical writing or filmmaking that explores specific ethnic experiences of diaspora, assimilation, and integration, this work considers two important aspects: These texts re-imagine the past by creating a work that exists both in history and as a historical document, making the creative process a form of re-enactment of the past itself. Each chapter centers on a thematic concern germane to the Asian American experience: the narrative of twentieth-century Asian wars and revolutions, which has become the subtext of a significant number of Asian American family memoirs.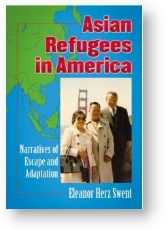 When Eleanor Swent began teaching English as a Second Language in 1967 at a school for adults in Oakland, California, she soon learned that many of the Asian immigrants in her classes had remarkable tales to tell of struggles in their homelands and their efforts to make new lives in America. This oral history, based on interviews Swent conducted with her students over thirty years, documents the Asian immigrant experience as never before.

Here are the stories of desperate individuals who swam to escape from China to Macao and Hong Kong; of Chinese daughters considered worthless by their families; of political refugees from Vietnam; of ethnic Chinese who fled by boat from Vietnam; of refugees from the genocide in Cambodia. As these remarkable new Americans learn different words and customs, they also enlarge our national vision, enriching our culture while assuring us that human dignity can rise above terrible circumstances.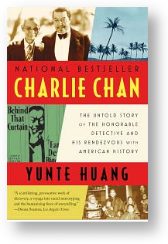 Hailed as "irrepressibly spirited and entertaining" (Pico Iyer, Time) and "a fascinating cultural survey" (Paul Devlin, Daily Beast), this provocative first biography of Charlie Chan presents American history in a way that it has never been told before. Yunte Huang ingeniously traces Charlie Chan from his real beginnings as a bullwhip-wielding detective in territorial Hawaii to his reinvention as a literary sleuth and Hollywood film icon.

Huang finally resurrects the "honorable detective" from the graveyard of detested postmodern symbols and reclaims him as the embodiment of America's rich cultural diversity. The result is one of the most critically acclaimed books of the year and a "deeply personal . . . voyage into racial stereotyping and the humanizing force of story telling."