May 11, 2011
Written by C.N.
A number of recently-published books, media articles, and an infographic provide some interesting and useful information about China and Chinese Americans, summarized below:
China's One Child Policy
Throughout the last couple of decades, there has been much discussion about China's One Child Policy that was implemented back in the 1970s to "encourage" Chinese families from having, as the name suggests, just a single child as a way to slow China's population growth. However, most Americans know little about the details, especially as there are increasing calls for China to change the policy. Fortunately, Good Transparencies has created an infographic that visually illustrates the main highlights of the One Child Policy (click on the thumbnail below for a larger version):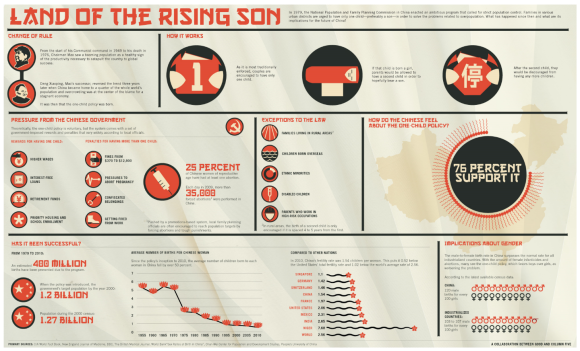 Over the past 30 years, China's red-hot economic growth has lifted hundreds of millions of people out of poverty, reshaped the global economy and given rise to a new power on the global stage. But that breakneck growth has also created an expanding wealth gap, major environmental problems, widespread corruption, a growing imperative to innovate and popular pressure for political reforms. . . .

But as this phase of China's economic development draws to an end, a new phase has begun. Call it China 2.0. . . . China's leaders worry about growing too fast. Premier Wen Jiabao said in March the expansion is "unbalanced, uncoordinated and unsustainable." To address that, the next five-year plan incorporates reforms already under way and charts a roadmap designed to keep the economy from veering off the track. . . .

The goal is to keep the economy growing, spread wealth from the industrial coastal cities to inland provinces and rural areas, encourage more domestic spending, spur innovation and deliver expanded social services to sparsely populated areas that lack them.
Eating dogs and cats–which is an age-old delicacy in China–could soon be against the law. Currently, dog and cat meat is viewed as promoting bodily warmth. But if the law passes, people who eat either animal could face fines of up to $730 or 15 days in jail. Organizations involved the practice would face fines up to 100-times as much.

"I support this proposal. Whether you judge this as a question of food security or emotions, there is absolutely no necessity in China for people to eat dogs and cats," said Zeng Li, the founder of the Lucky Cats shelter in Beijing. . . . The law has been in the draft stage for over a year and will be submitted to higher authorities come April. But draft legislation can take years to approve. . . .

The economic impact of this law would be small as China's affluent don't partake in the delicacy. In fact, such traditions have received much scrutiny from affluent, pet-loving, urban middle class. And online petitions against dog and cat consumption have attracted tens of thousands of signatures.
Every week a new book title announces an "irresistible" tilt east, the emergence of "Chimerica" and a not-too-distant future when China "rules" the planet. The mainstream media, and especially the business press, are gripped by the narrative of China taking over the world. . . .

But the coverage of China's global inroads has been profoundly short on context, particularly when it comes to how China is—and is not—surpassing the U.S. as a global power. There are plenty of stories of a Chinese-sponsored infrastructure project or a Chinese company cutting a deal to feed its "insatiable thirst" for raw materials, while Western involvement of similar or greater magnitude is lucky to make a headline at all.

Meanwhile, a close look at the key economic metrics and the subtler shades of power, such as cultural influence and humanitarian aid, reveals that while China is indeed one of the great powers in the world now (late last month it officially overtook Japan as the world's second-largest economy), its influence is mixed, and often undercut by America's.
Cutting-edge programs like those at the immersion charter school Yu Ying in Washington, D.C., and reports of Chinese-language courses popping up in heartland America would all seem to suggest that Americans are on the fast track to learning Chinese—and ultimately understanding China. . . . You'll be hard-pressed, the reasoning goes, to find anyone who doesn't think grasping the language of the world's fastest-growing economy is a good idea.

But the sad fact is that Americans are not learning Mandarin, the main tongue spoken in mainland China, in droves. Just take a look at the numbers. According to the Center for Applied Linguistics, in 2008 only 4 percent of middle and high schools that offer foreign-language instruction included Mandarin. That's up from 1 percent in 1997.

While that initially seems like respectable growth, the same survey reveals that 13 percent of schools still offer Latin and a full 10-fold more schools offer French than Mandarin. How is it that one a dead language and the other a language primarily used to impress your dinner companion can trounce one spoken by 1.3 billion natives and many millions more expats and immigrants abroad?
The US administration seems to be trying to convince its public of another untruth: that China is the true cause of America's economic woes — and that China possesses "weapons of mass economic destruction." What is that weapon of mass economic destruction? The humble yuan, which the US says has been manipulated to hurt the American economy. . . .

Economist Paul Krugman recently said China's trade surplus with the US had grown in the past decade even without the yuan rising sufficiently against the dollar. Before America's economic 9/11, however, its consumers seemed happy to get affordable Chinese goods year after year and its businesspeople were busy making profits from lucrative partnerships with Chinese companies. . . .

China's stimulus for its economy has created opportunities for Western countries' exports, too. . . . China would readily buy more advanced technologies from America, but Washington is reluctant to sell them. . . . . Hopefully, [Americans] will see through their politicians' desperate attempt to shift the blame for the country's problems to China in order to cover their own failures.
U.S. Army veteran Joaquin Lim sensed something was amiss with the troop that had popped up at civic events in Southern California's Chinese-American communities. At a flag raising ceremony honoring a Chinese holiday, the Walnut city councilman stopped one of the recruits and asked to see his military ID. "There were actually typos on the ID card," Lim said. "Right away, I knew something was wrong."

Those suspicions came into the spotlight Tuesday when authorities arrested the so-called "supreme commander" of the U.S. Army/Military Special Forces Reserve unit and charged him with duping Chinese immigrants into thinking they had truly enlisted in the American armed forces.

Prosecutors say Yupeng Deng, 51, recruited 100 other Chinese immigrants . . . at the cost of several hundred dollars, to help improve their chances of obtaining green cards and U.S. citizenship. . . . The case — which was investigated by the FBI and Department of Defense — highlights the vulnerability of immigrants desperately seeking to belong in a new country and naive to the norms of a society in which, for example, military recruits don't pay to enlist.
skilled immigrants are leaving the U.S. in droves. This is because of economic opportunities in countries like India and China, a desire to be closer to family and friends, and a deeply flawed U.S immigration system. It doesn't matter whether we call this "brain drain" or "brain circulation"– it is a loss for America. Innovation that would otherwise be happening here is going abroad. . . .

Surprisingly, 72% of Indian and 81% of Chinese returnees said that the opportunities to start their own businesses were better or much better in their home countries. Speed of professional growth was also better back home for the majority of Indian (54%) and Chinese (68 percent) entrepreneurs. And the quality of life was better or at least equal to what they'd enjoyed in the United States for 56% of Indian and 59% of Chinese returnees.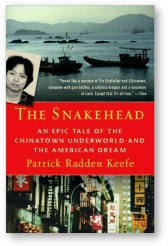 In the 1980s, a wave of Chinese from Fujian province began arriving in America. Like other immigrant groups before them, they showed up with little money but with an intense work ethic and an unshakeable belief in the promise of the United States. Many of them lived in a world outside the law, working in a shadow economy overseen by the ruthless gangs that ruled the narrow streets of New York's Chinatown.

The figure who came to dominate this Chinese underworld was a middle-aged grandmother known as Sister Ping. Her path to the American dream began with an unusual business run out of a tiny noodle store on Hester Street. From her perch above the shop, Sister Ping ran a full-service underground bank for illegal Chinese immigrants. But her real business—a business that earned an estimated $40 million—was smuggling people.

As a "snakehead," she built a complex—and often vicious—global conglomerate, relying heavily on familial ties, and employing one of Chinatown's most violent gangs to protect her power and profits. Based on hundreds of interviews, Patrick Radden Keefe's sweeping narrative tells the story not only of Sister Ping, but of the gangland gunslingers who worked for her, the immigration and law enforcement officials who pursued her, and the generation of penniless immigrants who risked death and braved a 17,000 mile odyssey so that they could realize their own version of the American dream.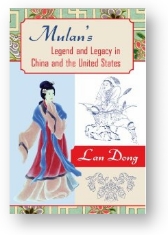 Mulan, the warrior maiden who performed heroic deeds in battle while dressed as a male soldier, has had many incarnations from her first appearance as a heroine in an ancient Chinese folk ballad. Mulan's story was retold for centuries, extolling the filial virtue of the young woman who placed her father's honor and well-being above her own. With the publication of Maxine Hong Kingston's The Woman Warrior in the late 1970s, Mulan first became familiar to American audiences who were fascinated with the extraordinary Asian American character. Mulan's story was recast yet again in the popular 1998 animated Disney film and its sequel.

In Mulan's Legend and Legacy in China and the United States, Lan Dong traces the development of this popular icon and asks, "Who is the real Mulan?" and "What does authenticity mean for the critic looking at this story?" Dong charts this character's literary voyage across historical and geographical borders, discussing the narratives and images of Mulan over a long time span—from premodern China to the contemporary United States to Mulan's counter-migration back to her homeland.

As Dong shows, Mulan has been reinvented repeatedly in both China and the United States so that her character represents different agendas in each retelling—especially after she reached the western hemisphere. The dutiful and loyal daughter, the fierce, pregnant warrior, and the feisty teenaged heroine—each is Mulan representing an idea about female virtue at a particular time and place.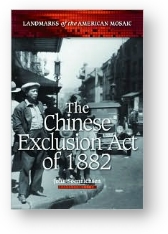 The Chinese Exclusion Act of 1882 was a historic act of legislation that demonstrated how the federal government of the United States once openly condoned racial discrimination. Once the Exclusion Act passed, the door was opened to further limitation of Asians in America during the late 19th century, such as the Scott Act of 1888 and the Geary Act of 1892, and increased hatred towards and violence against Chinese people based on the misguided belief they were to blame for depressed wage levels and unemployment among Caucasians.

This title traces the complete evolution of the Exclusion Act, including the history of Chinese immigration to the United States, the factors that served to increase their populations here, and the subsequent efforts to limit further immigration and encourage the departure of the Chinese already in America.