August 12, 2009
Written by C.N.
As part of this blog's mission of making academic research and data more easily accessible, understandable, and applicable to a wider audience and to practical, everyday social issues, I highlight new sociological books about Asian Americans and other racial/ethnic groups as I hear about them.
This time, I mention three books that focus on the issue of White privilege, an emotional but often misunderstood issue, particularly as it relates to White Americans, many (i.e., a large number but not all) of whom feel that when the topic is mentioned, they are being personally accused of being racist. As the following books describe in detail, it's much more complicated than that and in fact, White privilege is rooted at the institutional level.
The White Racial Frame: Centuries of Racial Framing and Counter-Framing, by Joe Feagin (Routledge)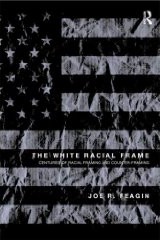 In this book Joe R. Feagin extends the systemic racism framework in previous Routledge books by developing an innovative new concept, the white racial frame. Now four centuries-old, this white racial frame encompasses not only the stereotyping, bigotry, and racist ideology accented in other theories of "race," but also the visual images, array of emotions, sounds of language, interlinking interpretations, and inclinations to discriminate that are still central to the frame's everyday operation.

Deeply embedded in American minds and institutions, this white racial frame has for centuries functioned as a broad worldview, one essential to the routine legitimation, scripting, and maintenance of systemic racism in the United States. Here Feagin examines how and why this white racial frame emerged in North America, how and why it has evolved socially over time, which racial groups are framed within it, how it has operated in the past and in the present for both white Americans and Americans of color, and how the latter have long responded with strategies of resistance that include enduring counter-frames.
Between Barack and a Hard Place: Racism and White Denial in the Age of Obama, by Tim Wise (City Lights Publishers)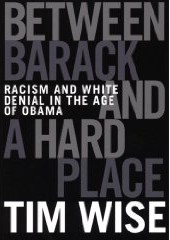 Wise, a white anti-racism activist and scholar (and author of White Like Me), pushes plenty of buttons in this methodical breakdown of racism's place in the wake of Barack Obama's victory. In the first of two essays, the author obliterates the canard of the US as a post-racial society; bigotry and institutionalized discrimination, he contends, have simply morphed into "Racism 2.0," in which successful minorities are celebrated "as having 'transcended' their blackness in some way."

While racial disparities in employment and income, housing, education and other areas persist, Obama has become an amiable sitcom dad like Bill Cosby, putting whites at ease by speaking, looking and acting "a certain way"-not to mention avoiding discussion of race. In his second, more incendiary essay, Wise concludes that whites must take responsibility for racism.

What the majority of whites fail to grasp, he says, is that they continue to benefit from a system of "entrenched privileges" centuries in the making, and that racism remains a serious obstacle for millions of African Americans. There's no sugar coating here for whites, nor are there any news flashes for Americans of color, but Wise bravely enumerates the unpalatable truths of a nation still struggling to understand its legacy of racist oppression.
Silent Racism: How Well-Meaning White People Perpetuate the Racial Divide, by Barbara Trepagnier (Paradigm Publishers)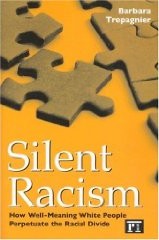 Vivid and engaging, Silent Racism persuasively demonstrates that silent racism – racism by people who classify themselves as not racist – is instrumental in the production of institutional racism. Trepagnier argues that heightened race awareness is more important in changing racial inequality than judging whether individuals are racist. The collective voices and confessions of non-racist; white women heard in this book help reveal that all individuals harbor some racist thoughts and feelings.

Trepagnier uses vivid focus group interviews to argue that the oppositional categories of racist/not racist are outdated. The oppositional categories should be replaced in contemporary thought with a continuum model that more accurately portrays today's racial reality in the United States. A shift to a continuum model can raise the race awareness of well-meaning white people and improve race relations. Offering a fresh approach, Silent Racism is an essential resource for teaching and thinking about racism in the twenty-first century.
White Privilege: Essential Readings on the Other Side of Racism, by Paula S. Rothenberg (Worth Publishers)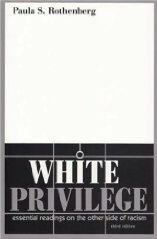 Studies of racism often focus on its devastating effects on the victims of prejudice. But no discussion of race is complete without exploring the other side—the ways in which some people or groups actually benefit, deliberately or inadvertently, from racial bias. This is the subject of Paula Rothenberg's groundbreaking anthology, White Privilege.

The new edition of White Privilege once again challenges readers to explore ideas for using the power and the concept of white privilege to help combat racism in their own lives, and includes key essays and articles by Peggy McIntosh, Richard Dyer, bell hooks, Robert Jensen, Allan G. Johnson, and others. Three additional essays add new levels of complexity to our understanding of the paradoxical nature of white privilege and the politics and economics that lie behind the social construction of whiteness, making this edition an even better choice for educators.

Brief, inexpensive, and easily integrated with other texts, this interdisciplinary collection of commonsense, non-rhetorical readings lets educators incorporate discussions of whiteness and white privilege into a variety of disciplines, including sociology, English composition, psychology, social work, women's studies, political science, and American studies.