November 4, 2009
Written by C.N.
Yesterday was Election Day and there were many Asian American candidates running for office throughout the country. For those who are curious, APAs for Progress has a summary of how individual Asian American candidates did in their particular contests. Perhaps the biggest win for Asian Americans came with the victory of John C. Liu to be New York City's Comptroller. As the New York Times summarizes, Liu's win is significant in many ways: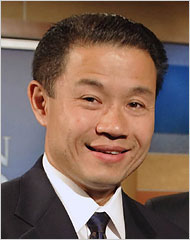 New York City Councilman John C. Liu was elected city comptroller in 2009, becoming the first Asian-American elected to citywide office in New York City. Mr. Liu's victory could quickly make him a strong contender for mayor in 2013. . . .

In 2001 Mr. Liu, then a consultant at PricewaterhouseCoopers, became the first Asian member of the City Council. The election was hailed as a watershed for the Chinese-American community, which had long been shut out of the political mainstream. Mr. Liu easily won re-election in 2003 and 2005.
These sentiments and early speculation about Liu's plans for the future are echoed in another news report from New York City's WCBS TV news station:
[Liu's successful campaign] is a big deal to many. "He is also an immigrant like me, is not American-born like me, so it's very exciting," said supporter Wing Ma. Some see his victory as a fitting reflection of national politics in the age of Obama. "I see a parallel, for him to make history," said Henry Singleton. . . .

Of course four years is a long way off and no one becomes mayor in this town without a fight, but on Tuesday night, New York's new comptroller-elect is giving off the glow of a political rising star.
Indeed, a lot of good and bad things can happen to Liu in the next four years, so it is rather early to pencil him in for any higher political office at this point. Nonetheless, he is definitely a rising star in the Democratic party and among many Asian Americans and is worth keeping an eye on in the upcoming years.
I congratulate John C. Liu and wish him the best success.