September 17, 2009
Written by C.N.
As part of this blog's mission of making academic research and data more easily accessible, understandable, and applicable to a wider audience and to practical, everyday social issues, I highlight new sociological books about Asian Americans and other racial/ethnic groups as I hear about them.
This particular book examines a consistently controversial and hot-button topic among all Americans, but particularly Asian Americans — interracial dating and marriage. The author's findings are not likely to end the disagreements about the racial and gender dynamics inherent within such unions and may even add more fuel to the fire, but nonetheless it is a worthy contribution to the discussion.
Racing Romance: Love, Power, and Desire Among Asian American/ White Couples, by Kumiko Nemoto (Rutgers University Press)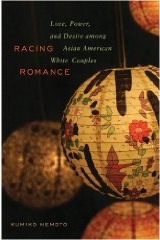 Despite being far from the norm, interracial relationships are more popular than ever. Racing Romance sheds special light on the bonds between Whites and Asian Americans, an important topic that has not garnered well-deserved attention until now. Incorporating life-history narratives and interviews with those currently or previously involved with an interracial partner, Kumiko Nemoto addresses the contradictions and tensions — a result of race, class, and gender — that Asian Americans and Whites experience.

Similar to Black/White relationships, stereotypes have long played crucial roles in Asian American/White encounters. Partners grapple with media representations of Asian women as submissive or hypersexual and Asian men are often portrayed as weak laborers or powerful martial artists. Racing Romance reveals how allegedly progressive interracial relationships remain firmly shaped by the logic of patriarchy and gender inherent to the ideal of marriage, family, and nation in America, even as this ideal is juxtaposed with discourses of multiculturalism and color blindness.