November 3, 2008
Written by C.N.
Being a fan of Formula One motor racing, I'd like to congratulate Lewis Hamilton on becoming the youngest Formula One champion ever. Hailing from Great Britain, Hamilton won the driver's championship in dramatic fashion in the Grand Prix of Brazil by passing a competitor in the last corner of the last lap and thereby claiming fifth place, just enough to win the championship over his nearest rival by one point.
However, Hamilton's age is not his biggest distinction in his championship. He is also the first Black driver to be crowned the F1 champion. Just like a well-known candidate running for President of the United States, Hamilton is actually half White and half Black and just like Barack Obama, has endured many high-profile incidents of racism as he has risen in national and international prominence in recent years.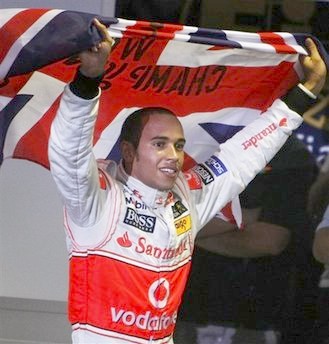 Now that Hamilton has achieved his ultimate goal of winning the Formula One championship, I certainly hope that by the end of tomorrow, we can celebrate another significant similarity in the careers of Lewis Hamilton and Barack Obama.