March 4, 2013
Written by C.N.
The following new books look at the intersections and connections between race, ethnicity, immigration, and community and how different groups of color/immigrants negotiated the political, economic, and cultural landscape of U.S. society through the years, the impacts they've had on their new surroundings, and vice versa. As always, a book's inclusion is for informational purposes only and does not necessarily mean a full endorsement of its contents.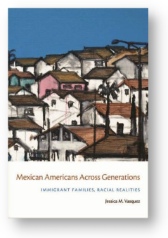 While newly arrived immigrants are often the focus of public concern and debate, many Mexican immigrants and Mexican Americans have resided in the United States for generations. Latinos are the largest and fastest-growing ethnic group in the United States, and their racial identities change with each generation. While the attainment of education and middle class occupations signals a decline in cultural attachment for some, socioeconomic mobility is not a cultural death-knell, as others are highly ethnically identified. There are a variety of ways that middle class Mexican Americans relate to their ethnic heritage, and racialization despite assimilation among a segment of the second and third generations reveals the continuing role of race even among the U.S.-born. Mexican Americans Across Generations investigates racial identity and assimilation in three-generation Mexican American families living in California. Through rich interviews with three generations of middle class Mexican American families, Vasquez focuses on the family as a key site for racial and gender identity formation, knowledge transmission, and incorporation processes, exploring how the racial identities of Mexican Americans both change and persist generationally in families. She illustrates how gender, physical appearance, parental teaching, historical era and discrimination influence Mexican Americans' racial identity and incorporation patterns, ultimately arguing that neither racial identity nor assimilation are straightforward progressions but, instead, develop unevenly and are influenced by family, society, and historical social movements.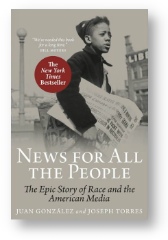 From the earliest colonial newspapers to the Internet age, America's racial divisions have played a central role in the creation of the country's media system, just as the media has contributed to—and every so often, combated—racial oppression. News for All the People reveals how racial segregation distorted the information Americans received from the mainstream media. It unearths numerous examples of how publishers and broadcasters actually fomented racial violence and discrimination through their coverage. And it chronicles the influence federal media policies exerted in such conflicts. It depicts the struggle of Black, Latino, Asian, and Native American journalists who fought to create a vibrant yet little-known alternative, democratic press, and then, beginning in the 1970s, forced open the doors of the major media companies.

The writing is fast-paced, story-driven, and replete with memorable portraits of individual journalists and media executives, both famous and obscure, heroes and villains. It weaves back and forth between the corporate and government leaders who built our segregated media system—such as Herbert Hoover, whose Federal Radio Commission eagerly awarded a license to a notorious Ku Klux Klan organization in the nation's capital—and those who rebelled against that system, like Pittsburgh Courier publisher Robert L. Vann, who led a remarkable national campaign to get the black-face comedy Amos 'n' Andy off the air.

Based on years of original archival research and up-to-the-minute reporting and written by two veteran journalists and leading advocates for a more inclusive and democratic media system, News for All the People should become the standard history of American media.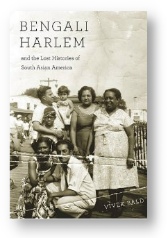 In the final years of the nineteenth century, small groups of Muslim peddlers arrived at Ellis Island every summer, bags heavy with embroidered silks from their home villages in Bengal. The American demand for "Oriental goods" took these migrants on a curious path, from New Jersey's beach boardwalks into the heart of the segregated South. Two decades later, hundreds of Indian Muslim seamen began jumping ship in New York and Baltimore, escaping the engine rooms of British steamers to find less brutal work onshore. As factory owners sought their labor and anti-Asian immigration laws closed in around them, these men built clandestine networks that stretched from the northeastern waterfront across the industrial Midwest.

The stories of these early working-class migrants vividly contrast with our typical understanding of immigration. Vivek Bald's meticulous reconstruction reveals a lost history of South Asian sojourning and life-making in the United States. At a time when Asian immigrants were vilified and criminalized, Bengali Muslims quietly became part of some of America's most iconic neighborhoods of color, from Tremé in New Orleans to Detroit's Black Bottom, from West Baltimore to Harlem. Many started families with Creole, Puerto Rican, and African American women.

As steel and auto workers in the Midwest, as traders in the South, and as halal hot dog vendors on 125th Street, these immigrants created lives as remarkable as they are unknown. Their stories of ingenuity and intermixture challenge assumptions about assimilation and reveal cross-racial affinities beneath the surface of early twentieth-century America.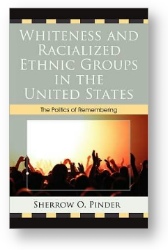 Whiteness and Racialized Ethnic Groups in the United States, in order to account for the never ending discrimination toward racialized ethnic groups including First Nations, blacks, Chinese, and Mexicans, revisits the history of whiteness in the United States. It shows the difference between remembering a history of human indignities and recreating one that composes its own textual memory. More specifically, it reformulates how the historically reliant positionality of whiteness, as a part of the everyday practice and discourse of white supremacy, would later become institutionalized.

Even though "whiteness studies," with the intention of exposing white privilege, has entered the realm of academic research and is moving toward antiracist forms of whiteness or, at least, toward antiracist approaches for a different form of whiteness, it is not equipped to relinquish the privilege that comes with normalized whiteness. Hence, in order to construct a post white identity, whiteness would have to be denormalized and freed of it of its presumptive hegemony.
Hmong and American: From Refugees to Citizens, edited by Vincent K. Her and Mary Louise Buley-Meissner (Minnesota Historical Society Press)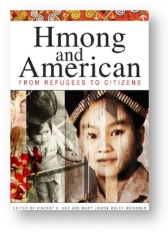 Farmers in Laos, U.S. allies during the Vietnam War, refugees in Thailand, citizens of the Western world—the stories of the Hmong who now live in America have been told in detail through books and articles and oral histories over the past several decades. Like any immigrant group, members of the first generation may yearn for the past as they watch their children and grandchildren find their way in the dominant culture of their new home.

For Hmong people born and educated in the United States, a definition of self often includes traditional practices and tight-knit family groups but also a distinctly Americanized point of view. How do Hmong Americans negotiate the expectations of these two very different cultures?

In an engaging series of essays featuring a range of writing styles, leading scholars, educators, artists, and community activists explore themes of history, culture, gender, class, family, and sexual orientation, weaving their own stories into depictions of a Hmong American community where people continue to develop complex identities that are collectively shared but deeply personal as they help to redefine the multicultural America of today.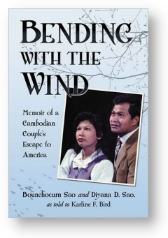 Before the Khmer Rouge takeover of Cambodia in April 1975, Sao Bounchoeurn and San Bounriem grew up in idyllic, though vastly different, circumstances. After a secondary education, Bounchoeurn entered the army, joined the Special Forces, and worked for the Americans. He became a slave laborer after the fall of Phnom Penh and eventually escaped to Thailand. In another part of Cambodia, Bounriem lived happily spoiled and uneducated.

Fleeing from the advancing Khmer Rouge, she arrived at the same refugee camp as Bounchoeurn, where they met, married, and immigrated to America. This riveting memoir chronicles the couple's childhoods, their lives under the Khmer Rouge, their journeys to Thailand and later the United States, and their efforts to forge a new life. This remarkable tale offers an intimate look inside the terrors of the Khmer Rouge and an inspiring portrait of the immigrant experience in America.

Author Citation
Copyright © 2001- by C.N. Le. Some rights reserved.
Suggested reference: Le, C.N. . "New Books: Race, Immigration, Integration, and History" Asian-Nation: The Landscape of Asian America. <http://www.asian-nation.org/headlines/2013/03/new-books-race-immigration-integration-history/> ().
Short URL: http://www.asian-nation.org/headlines/?p=1853
Tags:

Translate Into Another Language