March 28, 2012
Written by C.N.
The U.S. Census Bureau has finalized their official data on our nation's population and has just released their report brief "The Asian Population: 2010" that summarizes its major findings about the Asian American population in 2010, and in particular, how it compares to the last decennial Census taken in 2000. Below are some of the most significant highlights.
Growth Since 2000
The Asian American population (monoracial and mixed-race) grew from 11.9 million in 2000 to 17.3 million in 2010. This represents an increase of 45.6% since 2000. This proportional increase from 2000 is the highest of all the major racial/ethnic groups (in comparison, the Latino/Hispanic population grew 43% from 2000 to 2010.
Increases Within Each Ethnic Group
Among the six largest Asian ethnic groups (monoracial and mixed-race), who collective make up over 87% of the total Asian American population, Indians experienced the largest increase — 67.6% — since 2000. All Asian ethnic groups (monoracial and mixed-race) that had a population of at least 1,000 in 2000, Nepalese experienced large increases in their population — from 9,399 to 59,490 in 2010, an increase of 533%. Overall, the largest Asian ethnic group is the Chinese at 3.8 million (monoracial and mixed-race).
Huge Increase in Mixed-Race Asian American Population
Mixed-race Asian Americans (those who self-identified as having some Asian ancestry) increased from 1.6 million in 2000 to 2.6 million in 2010, an increase of 60%. Of all mixed-race Asian Americans, 61% self-identified as half White and half Asian.
Geographic Distribution
In terms of total numbers, the state with the largest Asian American population, not surprisingly, is California — 5.6 million Asian Americans lived in the Golden State in 2010 and they represented 14.9% of California's total population. But the state with the highest proportion of its residents being Asian American is Hawai'i — 57.4% of the Aloha State's population is Asian American. The state that experienced the biggest increase in its Asian American population from 2000 to 2010 is Nevada — from 112,246 to 242,916, an increase of 114%.

The first map below shows the proportion of Asian Americans by county in 2010. The second map shows the growth of Asian American residents by county in 2010.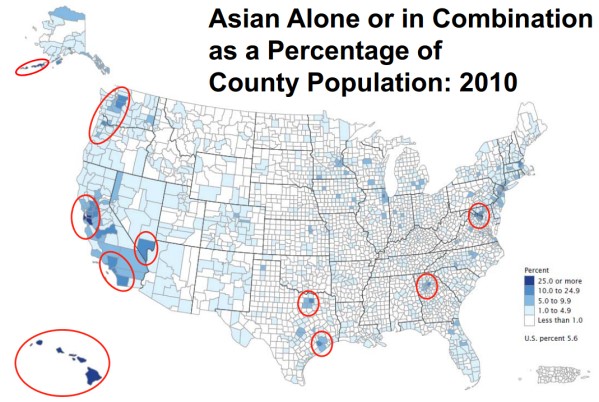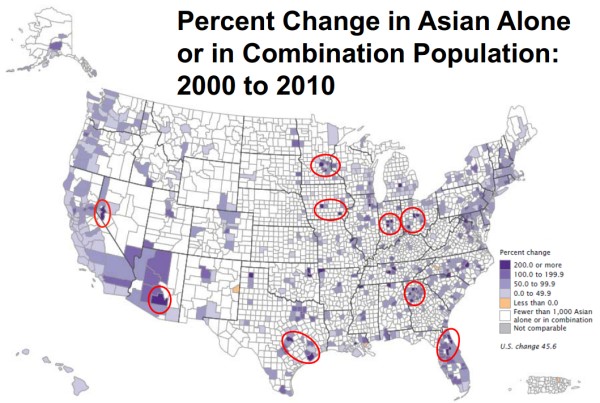 Again, you can read more findings from the 2010 Census about the Asian American population in the Census Bureau's recently-released summary report, The Asian Population: 2010.

Author Citation
Copyright © 2001- by C.N. Le. Some rights reserved.
Suggested reference: Le, C.N. . "Latest Census 2010 Data About the Asian American Population" Asian-Nation: The Landscape of Asian America. <http://www.asian-nation.org/headlines/2012/03/latest-census-2010-data-asian-american-population/> ().
Short URL: http://www.asian-nation.org/headlines/?p=1836
Tags:

Translate Into Another Language