January 11, 2012
Written by C.N.
Lunar New Year is just around the corner. On January 23, 2012, we enter the Year of the Dragon. Thanks to the generous support of American Express, Asian-Nation is giving away a $50 gift card to five (5) lucky readers!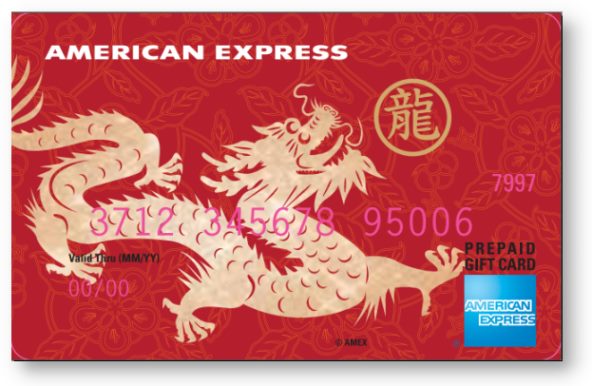 In celebration of the 2012 Lunar New Year, American Express today announced a new Gift Card design for the Year of the Dragon. The limited edition Lunar New Year Gift Card, exclusively from American Express, is available for purchase online with a free-shipping offer until January 31, 2012, at americanexpress.com/gift.

"For the third year in a row we have collaborated with the internal Asian Network at American Express to bring to life a unique gift card that celebrates the rich culture of several segments of the Asian community," said Simran Kalra, Vice President and General Manager, E-Commerce with American Express' Global Payment Options business. "American Express is excited for what the New Year will bring and we are proud to recognize Asian tradition through the release of this Gift Card."

The Lunar New Year Gift Card features an intricate dragon image and traditional flower pattern background. The Lunar New Year Gift Card offers the perfect gift option which can serve as an exciting and special alternative to cash. The Gift Card offers the following benefits including:

Available in denominations of $25, $50, $100, and $200
Accepted wherever American Express® Cards are accepted in the United States*
Funds on the Card do not expire and there are no monthly fees
Gift Card is replaceable at no fee if lost or stolen

Unlike some other gift cards, American Express® Gift Cards have no fees after purchase for activation, checking a balance, maintenance, or card replacement. The online purchase price is $3.95 for all available denominations of this Gift Card.

About American Express
American Express is a global services company, providing customers with access to products, insights and experiences that enrich lives and build business success. Learn more at americanexpress.com and connect with us on facebook.com/americanexpress, twitter.com/americanexpress and youtube.com/americanexpress.

* For complete terms and conditions, see Cardholder Agreement at Americanexpress.com/gift. Card may be used at merchants in the U.S. that accept American Express® Cards. Gift Cards cannot be used at cruise lines, for recurring billing charges, at casinos, or ATMs. American Express does not ship Gift Cards to the states of HI and VT.
Here is how to enter:
In the Comments section at the end of this post (click here if you're on the blog front page and can't see it), all you have to do is leave a comment about what you hope for in the new year — that's all.
Be sure to include an email address where I can contact you in case you're chosen as a winner.
Only one entry per person.
Deadline to post your comment is January 18 at 6pm ET.
Some time after 6pm on January 18, I will randomly choose 5 lucky winners to receive one of the $50 American Express gift cards. Good luck and Happy Lunar New Year!

Author Citation
Copyright © 2001- by C.N. Le. Some rights reserved.
Suggested reference: Le, C.N. . "Lunar New Year Giveaway: Win a $50 Gift Card to Celebrate the Year of the Dragon" Asian-Nation: The Landscape of Asian America. <http://www.asian-nation.org/headlines/2012/01/lunar-new-year-giveaway-win-50-gift-card-celebrate-year-dragon/> ().
Short URL: http://www.asian-nation.org/headlines/?p=1818
Tags:

Translate Into Another Language