November 7, 2011
Written by C.N.
The following is a list of recent academic journal articles and doctoral dissertations from scholars in the social sciences and humanities that focus on race/ethnicity and/or immigration, with a particular emphasis on Asian Americans. As you can see, the diversity of research topics is a direct reflection of the dynamic and multidimensional nature of people's lives, experiences, and issues related to race/ethnicity and immigration.
The academic journal articles are generally available in the libraries of most colleges and universities and/or through online research databases. As always, works included in this list are for informational purposes only and do not imply an endorsement of their contents.
Schlund-Vials, Cathy J. 2011. "Re-Seeing Race in a Post-Obama age: Asian American Studies, Comparative Ethnic Studies, and Intersectional Pedagogies." New Directions for Teaching & Learning 125:101-109.

Abstract: Focused on comparative ethnic studies and intersectionality, the author commences with a discussion about Barack Obama's historic inauguration and the Asian American literature classroom. Such historical and educational frames foreground a deeper discussion about the possibilities and challenges associated with cross-cultural, cross-racial pedagogies within Asian American studies and ethnic studies.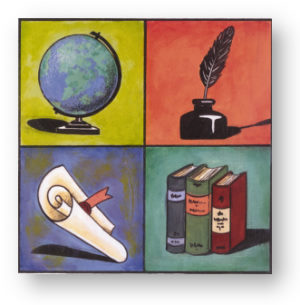 DuongTran, Paul. 2011. "Coping Resources among Southeast Asian-American Adolescents." Journal of Human Behavior in the Social Environment 21(2):196-208.

Abstract: This study examines the relationships of gender and ethnic differences in the experiences of stressful life events, coping-specific responses, and self-reported depression. Seventy high-school aged respondents, 40 boys and 30 girls, responded to a self-reported questionnaire that asked questions on the perceived distress of related life events (i.e., person, family, peer, acculturation events), coping-specific responses, and depression. The findings provide important data on gender and ethnic variations in the ways Southeast Asian-American adolescents deal with life stress and depression. These findings have important implications for social work practice and future research on the psychosocial adjustment with both immigrant and ethnic children and adolescents.
Borrero, Noah E. and Christine J. Yeh. 2011. "The Multidimensionality of Ethnic Identity Among Urban High School Youth." Identity: An International Journal of Theory and Research 11(2):114-135.

Abstract: This study was designed to explore the associations of ethnic identity dimensions with collective self-esteem membership, school interest, student interest in learning, and community engagement among 406 ethnically diverse (Asian American, Black, Latino, Pacific Islander, and multiracial) high school students. Using the Ethnic Identity Scale, this article presents the relationships between school and community variables with students' perceptions of ethnic identity exploration, resolution, and affirmation.

Correlational analyses and post hoc t tests using Steiger's modified z statistic show strong positive correlations between most school and community variables and students' ethnic identity exploration and resolution. They also reveal a strong negative correlation between students' school interest and ethnic identity affirmation. Results are discussed in terms of the emergent distinctions between student interest in learning and school interest as they relate to ethnic identity dimensions and collective self-esteem membership.
Okamura, Jonathan Y. 2011. "Barack Obama as the Post-Racial Candidate for a Post-Racial America: Perspectives from Asian America and Hawai'i." Patterns of Prejudice 45(1 & 2):133-153.

Abstract: Okamura reviews the 2008 US presidential campaign and the election of Barack Obama as a 'post-racial candidate' in terms of two different meanings of 'post-racialism', namely, colour blindness and multiculturalism. He also discusses his campaign and election from the perspective of Asian America and Hawai'i given that Obama has been claimed as 'the first Asian American president' and as a 'local' person from Hawai'i where he was born and spent most of his youth.

In both cases, Obama has been accorded these racialized identities primarily because of particular cultural values he espouses and cultural practices he engages in that facilitate his seeming transcendence of racial boundaries and categories generally demarcated by phenotype and ancestry. Okamura contends that proclaiming Obama as an honorary Asian American and as a local from Hawai'i inadvertently lends support to the post-racial America thesis and its false assertion of the declining significance of race: first, by reinforcing the 'model minority' stereotype of Asian Americans and, second, by affirming the widespread view of Hawai'i as a model of multiculturalism.
Shin, Hyoung-jin. 2011. "Intermarriage Patterns among the Children of Hispanic Immigrants." Journal of Ethnic and Migration Studies 37(9):1385-1402.
Abstract: Utilizing data from the 2005–07 American Community Survey Public Use Micro Sample (ACS-PUMS), this study investigates the intermarriage patterns of Mexican, Cuban and Dominican Americans who were born in the United States or came to the country as immigrant children. Using intermarriage patterns as an indicator of social relations, I examine how cultural and structural assimilation factors affect the marital assimilation process among the children of Hispanic immigrants.

One of the major contributions of this study is the examination of diversity within the US census categorization of 'Hispanic'. Results from multinomial logistic regression analyses suggest that the marital assimilation process of Mexicans, Cubans and Dominicans varies across and within the groups according to their different individual characteristics and metropolitan context. My study is novel because it recognizes that broad-sweep analyses of intermarriage patterns are overly simplistic renderings of racial/ethnic assimilation because they fail to reveal distinctive and noteworthy within-group diversity.
Jain, Sonali. 2011. "The Rights of 'Return': Ethnic Identities in the Workplace among Second-Generation Indian-American Professionals in the Parental Homeland." Journal of Ethnic and Migration Studies 37(9):1313-1330.
Abstract: This article explores the salience of ethnicity for second-generation Indian-American professionals who 'return' from the US to their parental homeland, India. Drawing on in-depth interviews with 48 second-generation Indian-Americans in India, it examines when and how they adopt ethnic identities in the workplace. My findings suggest that, bolstered by their transnational experiences and backgrounds, returnees construct ethnic identities and utilize ethnic options that reflect the cultural and economic environments of their adopted homeland.

At the same time, and often contemporaneously, work relationships, experiences and personal interactions with those they encounter in the parental homeland factor into their transnational identity constructions. Also proposed is a preliminary framework within which to explore the conditions that facilitate the construction and assertion of returnees' ethnic identities in the workplace in India.

Author Citation
Copyright © 2001- by C.N. Le. Some rights reserved.
Suggested reference: Le, C.N. . "Academic Research: Articles on Race/Ethnicity & Immigration #6" Asian-Nation: The Landscape of Asian America. <http://www.asian-nation.org/headlines/2011/11/academic-research-articles-race-ethnicity-immigration-6/> ().
Short URL: http://www.asian-nation.org/headlines/?p=1801
Tags:

Translate Into Another Language