September 8, 2011
Written by C.N.
As the nation prepares to commemorate the 10th anniversary of 9/11, there are many different ways to think about how those events have affected the Asian American community in the past decade. One important contribution comes from the academic journal The Asian American Literary Review, which has just released a special issue of testimonies, essays, and dialogues written by community activists, writers, and scholars that explore the the political, legal, and civil rights repercussions for most directly affected: South Asians, Arabs, Middle Easterners, and Muslim Americans. An excerpt of their press release and their table of contents are below: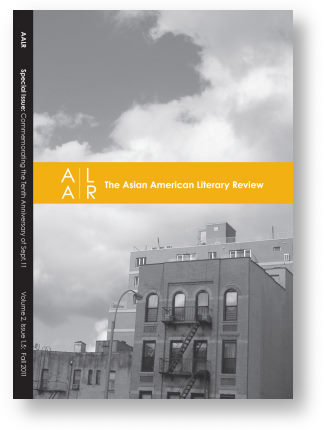 Asian American Literary Review Releases Special Issue Commemorating Tenth Anniversary Of Sept. 11

As the tenth anniversary of September 11th, 2001 approaches, how can we reflect on that day and its aftermath when so many of the voices of affected communities remain unheard? In the interests of broadening the public conversation, The Asian American Literary Review (AALR) is publishing a special commemorative issue that gives voice to those too frequently unheard.

AALR's Special Issue: Commemorating the Tenth Anniversary of Sept. 11 features a Sikh American musician on the traumas of experience, before and after; an Indian American lawyer on defending Guantánamo detainees; a Pakistani American Muslim feminist on teaching September 11th; an Afghan American poet on envisioning the first Afghan American literary anthology; an Arab American scholar on why Arab American fiction matters; and organizers and participants on the 10-year anniversary of Desis Organizing, the first gathering of NYC South Asian activists and artists. . . .

Rajini Srikanth, Introduction

Section 1: Witness and Grieving

Sonny Singh, Testimony
Anouska Cheddie, Testimony
Samina Najmi, "Teaching as a Pakistani American Muslim Feminist"
Unais Ibrahim, Shahara Ahmed, and Tauseef Kazi, Testimony
Kazim Ali, "September 14th"
Varun Sriram, "My Airport Story"
Siddharth Shah, "Terrorized Nervous Systems and Islamophobic Backlash: The Case for Neurobiological and Psychosocial Countermeasures"
Rishi Reddi, "On Being South Asian Post 9/11"
Mary Husain, Rakhshanda Saleem, Sunaina Maira, and Veena Dubal, "Forum | On 9/11 as 'Rupture'"
Sudha Acharya, Testimony
Theresa Thanjan, Testimony
Elizabeth OuYang, Testimony
DJ Rekha, Postcard & Testimony
Anant Raut, "I Guess You Had to Be"
Vijay Prashad, "Dear Uncle Swami"

Visuals from Visible Collective

Section 2: New Formations, New Alignments

Adem Carroll, Testimony
Tito Sinha and Chaumtoli Huq, "Laying the Groundwork for-Post 9/11 Alliances: Reactions Ten Years Later on Desis Organizing"
Zohra Saed, Testimony
Pico Iyer, "Ten Years On"
Angie Chuang, "Six Syllables: Searching for Home, and the Post-9/11 Metaphor, in Kabul"
Pawan Dhingra, "Post-9/11 Vacancies: Race, Economics, and Indian American Motel Owners"
Deepa Iyer, Gary Okihiro, Jack (John Kuo Wei) Tchen, Sunita, S. Mukhi, Jennifer Hayashida, Abla Harara, Nadia Firozvi, and Robert Ji-Song Ku, "Forum | On the Desi America-Asian America Split and New Alignments Between South Asian, Arab, Middle Eastern, and Muslim Americans"
Tram Nguyen, "On Suspects and Belonging: Post-9/11 America"
Khin Mai Aung, Testimony
Magid Shihade, "On 9/11 and the War on 'Terror': Names, Numbers, and Events"
Elora Chowdhury, "Unsuspecting Connections: Reactions on Teaching 'Becoming South Asian' to Non-South Asians in Post-9/11 America"
Vasudha Desikan, Testimony
Saru Jayaraman, Testimony
Subhash Kateel by Parag Khandhar, "The Long View: An Interview"

Visuals from Tomie Arai

Section 3: We Live in Echo

Dinu Ahmed and Moumita Zaman, "A Dialogue on Khadijah's Caravan"
Mazen Naous, "Why Arab American Fiction Matters"
Amitava Kumar, Harold Ja e, Anis Shivani, and Shailja Patel, "Forum | On Literature Post 9/11"
Zohra Saed, Testimony
Ronak Kapadia, Prerana Reddy, Naeem Mohaiemen, Vivek Bald, Aimara Lin, Uzma Z. Rizvi, and Aziz Huq, "Collectives in Post-2001 New York: A Conversation with
Visible Collective"
Madhulika Khandelwal, Testimony
Purvi Shah, Hossannah Asuncion, Tamiko Beyer, April Heck, R.A. Villanueva, and Kelly Zen-Yie Tsai, "A Public Art, A Re-membered Poetry, A Community Constellation: A Dialogue on the Kundiman Project Together We Are New York"
Shahid Buttar and Dan S. Wang, Testimony
Giles Li and Sham-e Ali Nayeem, "On the DVD Ten Years Later: Asian American Performers Reflect on 9/11"
Sunu Chandy, Testimony

Visuals from Khadijah's Caravan

Parag Khandhar, Afterword

Author Citation
Copyright © 2001- by C.N. Le. Some rights reserved.
Suggested reference: Le, C.N. . "Literary Essays on 9/11 10th Anniversary" Asian-Nation: The Landscape of Asian America. <http://www.asian-nation.org/headlines/2011/09/literary-essays-9-11-10th-anniversary/> ().
Short URL: http://www.asian-nation.org/headlines/?p=1781
Tags:

Translate Into Another Language