September 16, 2011
Written by C.N.
Here are some more announcements, links, and job postings about academic-related jobs, fellowships, and other opportunities for those interested in racial/ethnic/diversity issues. As always, the announcements and links are provided for informational purposes and do not necessarily imply an endorsement of the organization or college involved.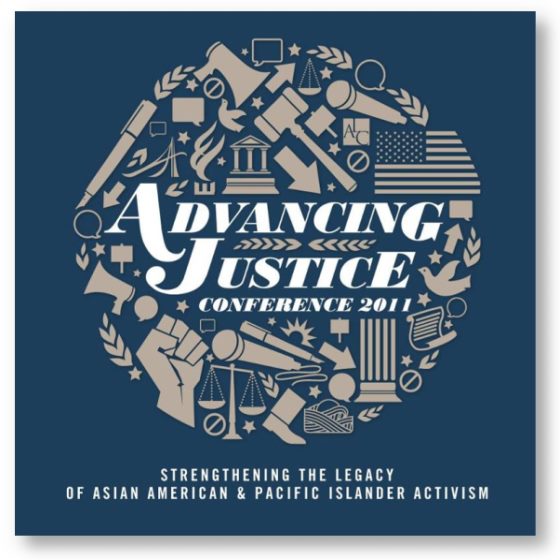 As a reminder, the 2011 Advancing Justice Conference will be held in San Francisco on October 27-28, 2011. This year's conference will pay tribute to the rich history of activism that makes the Bay Area such a special place for all communities, but especially Asian Americans and Pacific Islanders. This year's conference will include exciting and diverse workshops on:

Civil & Human Rights
Capacity Building
Youth Leadership & Community Organizing
Immigrant Integration & Civic Participation

What does "Advancing Justice" mean to you? Visit the Advancing Justice Facebook page, click Like, and answer in ONE comment for your chance to win free registration to Advancing Justice Conference! Answers accepted until Friday 9/23 and the winner will be announced 9/26.
The National Asian Pacific American Bar Association (NAPABA) is the national association of Asian Pacific American (APA) judges, law professors, law students, and lawyers with over 60 affiliated local bar associations nationwide. NAPABA promotes the professional development of its members and advocates for justice, equity, and opportunity for APAs. NAPABA's program initiatives include increasing diversity in the legal profession, supporting APA judicial nominees, and promoting pro bono and community service efforts. NAPABA is located in downtown Washington, D.C., approximately four blocks from The White House.

About NAPABA's Internship
NAPABA's intern will work closely with the Programs Associate to support NAPABA by:

Conducting research on issues affecting APAs and the legal profession
Assisting with coordinating the activities of NAPABA's committees including the civil rights, immigration, legislative, and labor and employment committees
Accompanying the Executive Director, Policy Director, and/or Programs Associate to various events and meetings
Assisting with NAPABA's 23rd Annual Convention in Atlanta, GA with the opportunity to attend
Assisting with administrative tasks including answering phone calls, faxing, and copying
Performing other tasks to support NAPABA staff as necessary

This internship is generally unpaid; a small stipend for local travel may be provided. NAPABA supports and encourages applicants' efforts to seek academic credit for their work.

Qualifications
Applicants should be self-motivated and hard-working, with an ability to work with a diverse staff. Excelling writing skills and attention to detail are a must. Undergraduates with an interest in law and/or public policy are encouraged to apply.

How to Apply
To apply, email a cover letter, resumé, list of three references, and a writing sample to Azizah Ahmad at programs@napaba.org with the subject line "NAPABA FALL INTERNSHIP APPLICATION." This internship will remain open until filled and is available on a rolling basis.
Position: Asian American Screen Arts, Univ. of MI
The University of Michigan's Department of Screen Arts and Cultures (SAC), the Department of Asian Languages and Cultures (ALC) and the Program in American Culture (AC), invite applications for as many as two positions in "Asian Screen Arts and Culture" and/or "Asian American Screen Arts and Culture" beginning September 1, 2012. Scholars of cinema, television and digital media are invited to apply.

The position(s) in "Asian Screen Arts and Culture," would be jointly appointed between SAC and ALC, and the position(s) in "Asian American Screen Arts and Culture," would be jointly appointed between SAC and AC. These university-year appointments are possible at both junior and senior ranks. Successful candidates are expected to teach a range of courses, from introductory undergraduate lecture courses through graduate seminars; to supervise doctoral dissertations; and to participate actively in the programs of the departments as well as in area studies initiatives within a larger university community that encourages interdisciplinary efforts.

For all positions, the Ph.D. is required prior to appointment. Evidence of excellent teaching and research abilities is essential. Please submit a letter of application, CV, statement of teaching philosophy and experience, evidence of teaching excellence (if any), and a statement of current and future research plans. Junior candidates may submit a placement dossier with representative publications or writing sample and at least three letters of recommendation. Senior candidates should send the names of suggested reviewers.

Please send applications to Asian/Asian American Screen Arts Search Committee, Department of Screen Arts and Cultures, University of Michigan, 6330 North Quad, 105 S. State Street, Ann Arbor, MI 48109-1285. To be assured consideration, applications must be received by September 15, 2011. The University is supportive of the needs of dual career couples.
The Department of Sociology in the Maxwell School of Citizenship & Public Affairs, Syracuse University, invites applications for a tenure-track Assistant Professor position to begin Fall, 2012. We seek a scholar with a strong program of research on race, cultural interrelations, and / or racial inequalities whose work fits within a broad agenda for multidisciplinary research on African Americans and / or black immigrants in urban contexts.

Preference will be given to candidates who can contribute to other strengths in the department, which include sociology of education, work, family, health, aging, gender, sexuality, and social policy, and to those whose interdisciplinary interests complement the broader Maxwell mission. Candidates must have a Ph.D. in Sociology or a related discipline by the time of appointment and must show success in or strong promise of scholarly achievement and productivity, as well as a commitment to graduate and undergraduate teaching. Faculty members have the opportunity to affiliate with one of the Maxwell School's research institutes or a number of other interdisciplinary centers and programs.

We will begin reviewing applications on October 15th and continue until the position is filled. For consideration, interested candidates must apply at www.sujobopps.com by completing a brief faculty summary. Candidates must upload to the online system a letter of interest, vita, and one publication or writing sample; other materials will be requested if needed. In addition, on the online system, applicants must identify three people who will be asked to provide letters of recommendation.
2011 Asian American Women in Leadership Conference:
What Can We Learn from Asian American Women Leaders?

About the Conference
ASPIRE and the Simmons Institute for Leadership and Change are pleased to present the 2011 Asian American Women In Leadership (AAWIL) Conference on November 5, 2011 celebrating the theme of: What Can We Learn from Asian American Women Leaders?

The 2011 AAWIL Conference will celebrate the significant contributions of Asian American women leaders and the inspirational lessons we can learn from their experiences. This conference aims to affirm the importance of empowering Asian American women and to create a bridge for our next generation of leaders through exploration of personal and professional growth in a context relevant to Asian American women. Speakers with diverse personal and professional backgrounds will share stories about the challenges they faced, stereotypes they overcame, and the paths they choose to gain success.

Attendees will participate in workshops that:

Develop and strengthen skills to grow personally and professionally in school, workplace, and the community
Recognize and celebrate different types of leadership and inspirational women
Discuss ways to advance the visibility of Asian American women in leadership roles
Provide a sense of community and connectedness for Asian American girls and women to network, build relationships, and learn from each other
Energize and equip attendees to broaden their horizons and seek out future career and leadership opportunities

The AAWIL Conference aims to set forth strategic dialogue on the importance of leadership for Asian American girls and women. Specifically, the conference is designed to:

Explore various aspects of leadership, particularly as it relates to Asian American women
Evaluate the effectiveness of different leadership skills and styles
Energize and equip attendees to seek out future leadership opportunities
Create cross-generational networks among attendees that will extend discussions and relationships beyond the scope of the conference
Raise awareness about ASPIRE, its missions and value to Asian American girls and women

Author Citation
Copyright © 2001- by C.N. Le. Some rights reserved.
Suggested reference: Le, C.N. . "Links, Jobs, & Announcements #51" Asian-Nation: The Landscape of Asian America. <http://www.asian-nation.org/headlines/2011/09/links-jobs-announcements-51/> ().
Short URL: http://www.asian-nation.org/headlines/?p=1787
Tags:

Translate Into Another Language