January 17, 2011
Written by C.N.
Lunar New Year is just around the corner. On February 3, 2011, we enter the Year of the Rabbit/Cat (Chinese astrology celebrates the Rabbit while the Vietnamese, as part of their Tet festivities, celebrate the Cat). Thanks to the generous support of American Express, Asian-Nation is giving away a $50 gift card to ten (10) lucky readers!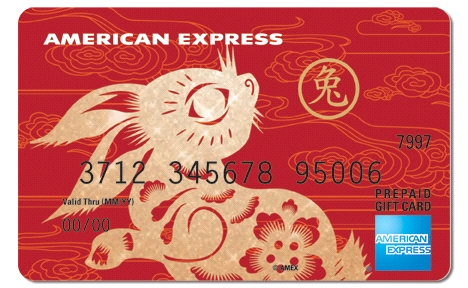 American Express makes it easy to give family, friends, and business associates what they want for the Chinese Lunar New Year, while celebrating the rich culture of the Chinese community. The new limited edition Year of the Rabbit Gift Card, exclusively from American Express, is available for purchase online with a free-shipping offer at americanexpress.com/rabbit. The limited-edition Year of the Rabbit Gift Card from American Express follows the success of last year's Year of the Tiger Lunar New Year, Diwali and ¡Felicidades! Gift Cards.

"Working in collaboration with our internal Asian Network at American Express, we are excited to introduce this Gift Card celebrating Chinese culture," said Alpesh Chokshi, president of Global Payment Options, American Express. "I, along with American Express, wish the Chinese-American community a happy, healthy and prosperous Year of the Rabbit."

With its traditional paper-cut depiction of a peaceful rabbit, the Year of the Rabbit Gift Card offers a unique gift option which can serve as an exciting and special alternative to the cash usually placed in red envelopes.
To enter, all you have to do is leave a comment at the end of this post about what you hope for in the new year — that's all. On January 27, I will randomly choose 10 lucky winners to receive one of the $50 American Express gift cards. Only one entry per person and be sure to include an email address where I can contact you in case you're chosen as a winner.
Good luck and Happy Lunar New Year!

Author Citation
Copyright © 2001- by C.N. Le. Some rights reserved.
Suggested reference: Le, C.N. . "Giveaway: Free $50 Gift Card to Celebrate Lunar New Year" Asian-Nation: The Landscape of Asian America. <http://www.asian-nation.org/headlines/2011/01/giveaway-free-gift-card-celebrate-lunar-new-year/> ().
Short URL: http://www.asian-nation.org/headlines/?p=1703
Tags:

Translate Into Another Language