September 30, 2010
Written by C.N.
Following up on my recent post "Transracial Adoption from the Adoptee's Point of View," my former student and now colleague Gang Shik is organizing a Korean Adoptee Film Festival, "Journeys Abroad, Journeys Within." It will take place Oct. 29-30 at the University of Massachusetts, Boston. You can click on the image below to view a full-size version: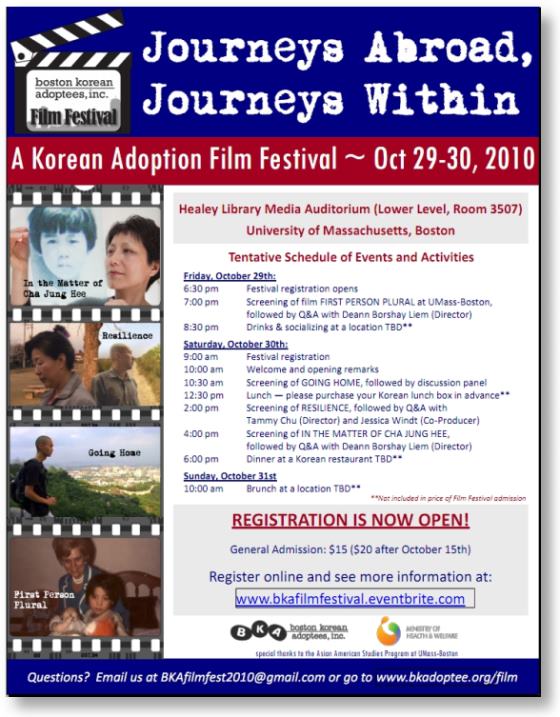 As Gang wrote in his post that I reprinted, when the mainstream media talk about international and transracial adoption, too often the voices and experiences of the adoptees themselves are completely ignored or marginalized. Hopefully events like this will help educate everybody that the adoptees themselves have much to contribute toward the academic and personal understanding of this complicated issue.

Author Citation
Copyright © 2001- by C.N. Le. Some rights reserved.
Suggested reference: Le, C.N. . "Korean Adoption Film Festival in Boston" Asian-Nation: The Landscape of Asian America. <http://www.asian-nation.org/headlines/2010/09/korean-adoption-film-festival-boston/> ().
Short URL: http://www.asian-nation.org/headlines/?p=1652
Tags:

Translate Into Another Language