August 9, 2010
Written by C.N.
As part of this blog's mission of making academic research and data more easily accessible, understandable, and applicable to a wider audience and to practical, everyday social issues, I highlight new sociological books about Asian Americans and other racial/ethnic groups as I hear about them. A book's inclusion is for informational purposes only and does not necessarily mean a full endorsement of its contents.
In addition to mentioning new book releases, I will periodically include links to recent news articles from around the internet that relate to the books' topic as well, to give readers a wider exposure to the different dynamics involved. This time around, I highlight books and internet links that focus on art and entertainment involving Asians and Asian Americans.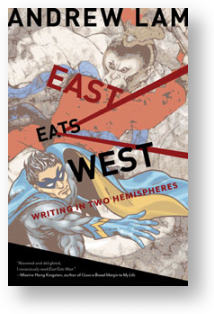 From cuisine and martial arts to sex and self-esteem, East Eats West shines new light on the bridges and crossroads where two hemispheres meld into one worldwide immigrant nation. In this new nation, with its amalgamation of divergent ideas, tastes, and styles, today s bold fusion becomes tomorrow s classic. But while the space between East and West continues to shrink in this age of globalization, some cultural gaps remain.

In this collection of twenty-one personal essays, Andrew Lam, the award-winning author of Perfume Dreams, continues to explore the Vietnamese diaspora, this time concentrating not only on how the East and West have changed, but how they are changing each other. Lively and engaging, East Eats West searches for meaning in nebulous territory charted by very few. Part memoir, part meditations, and part cultural anthropology, East Eats West is about thriving in the West with one foot still in the East.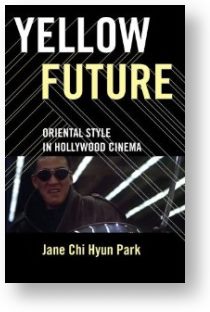 Yellow Future examines the emergence and popularity of techno-oriental representations in Hollywood cinema since the 1980s, focusing on the ways East Asian peoples and places have become linked with technology to produce a collective fantasy of East Asia as the future. Jane Chi Hyun Park demonstrates how this fantasy is sustained through imagery, iconography, and performance that conflate East Asia with technology, constituting what Park calls "oriental style."

Park provides a genealogy of oriental style through contextualized readings of popular films-from the multicultural city in Blade Runner and the Japanese American mentor in The Karate Kid to the Afro-Asian reworking of the buddy genre in Rush Hour and the mixed-race hero in The Matrix. Throughout these analyses Park shows how references to the Orient have marked important changes in American popular attitudes toward East Asia in the past thirty years, from abjection to celebration, invisibility to hypervisibility.

Unlike other investigations of racial imagery in Hollywood, Yellow Future centers on how the Asiatic is transformed into and performed as style in the backdrop of these movies and discusses the significance of this conditional visibility for representations of racial difference.
No Safe Spaces looks at one of the most radical and enduring changes introduced during the Civil Rights era — multiracial and cross-racial casting practices in American theater. The move to cast Latino/a, African-American, and Asian-American actors in classic stage works written by and about white Europeans and Americans is viewed as both a social and political gesture and an artistic innovation. Non-traditionally cast productions are shown to have participated in the national dialogue about race relations and ethnic identity and served as a source of renewed creativity for the staging of the canonical repertory.

The book opens with a historical overview of multiracial casting, considering the artistic, political, and pragmatic dimensions of nontraditional approaches to casting. Two subsequent chapters examine non-traditional casting in terms of the relationship between reality and stage representation being assumed by various theatrical genres and in the context of the process of racial formation in the United States. The remaining chapters focus on case studies from the dominant genres of twentieth-century American theater: classical tragedy and drama, modern domestic drama, anti-realist drama, and the Broadway musical.
Asian Horror, by Andy Richards (Oldcastle Books)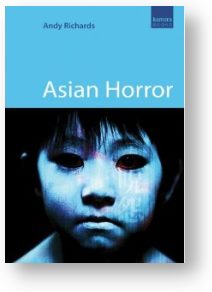 Since Japanese horror sensations The Ring and Audition first terrified Western audiences at the turn of the millennium, there's been a growing appreciation of Asia as the hotbed of the world's best horror movies. Over the last decade, Japan, South Korea, Thailand, and Hong Kong have all produced a steady stream of stylish supernatural thrillers and psychological chillers that have set new benchmarks for cinematic scares.

Hollywood soon followed suit, producing high-profile remakes of films such as The Ring, Dark Water, The Grudge, and The Eye. With scores of Asian horror films now available to Western audiences, this guide helps viewers navigate the eclectic mix of vengeful spooks, yakuza zombies, feuding warlocks, and devilish dumplings, discussing the grand themes of Asian horror cinema and the distinctive national histories that give the films their special resonance.

Tracing the long and noble tradition of horror stories in eastern cultures, it also delves into some of the folktales that have influenced this latest wave of shockers, paying tribute to classic Asian ghost films throughout the ages.
A Chinese-made production of the story of "Mulan" competes with the Disney version to capture attention, history, and revenue. As the article also notes, "While the Disney film wove comedy into a Disney-esque plot about a young girl breaking out of the confines of tradition to pursue her own destiny, the new Mulan focuses on patriotism, filial piety, romance and the difficulties of war. The formula is part of an evolving mainland genre that has seen filmmakers incorporating more nuanced, entertaining storytelling into patriotic plots."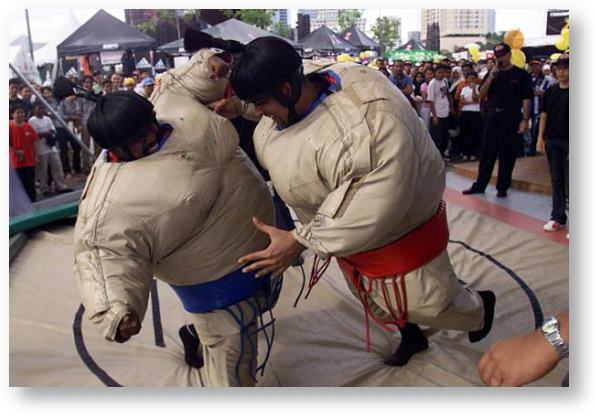 The Alma Mater Society of Queens University in Kingston, Canada declares that sumo costumes are offensive and that organizations should stop using them as part of their activities:

"Sumo suits, the plastic novelties that can transform a skinny sports fan into a comically unstable sphere for the delight of a stadium audience, are racist and dehumanizing instruments of oppression, according to the student government of Queen's University. They "appropriate an aspect of Japanese culture," turn a racial identity into a "costume," and "devalue an ancient and respected Japanese sport, which is rich in history and cultural tradition." They also "fail to capture the deeply embedded histories of violent and subversive oppression that a group has faced."

Likewise, the owners of the two suits have never imagined they could be considered offensive. "It's the first time we've heard of [the racist aspects]," Mike Grobe, a spokesman for Queen's Athletics, which uses the suits at football and basketball games for half-time shows, when people run obstacle courses in them. "They're just big puffy suits. They're pink… No one's complained."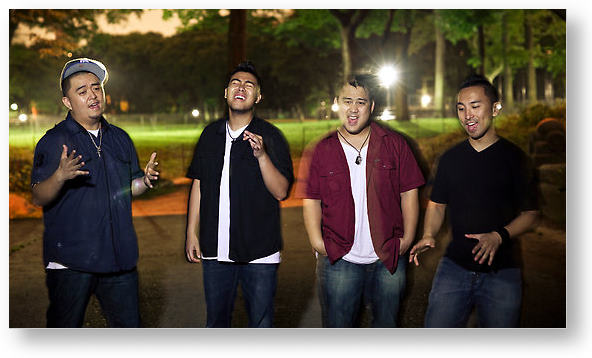 Comprised of four Filipino Americans from San Francisco, Legaci has recently gained fame by performing in support of Justin Bieber. But does their success reinforce the notion that Asian American pop music performers can't be successful as lead acts?

"Even if most people just know us as Justin Bieber's Asian backup singers," [Legaci co-founder] Micah Tolentino said, "we're proud to be out there, to show the world that Asian-Americans are talented." While the pop charts are a familiar home to African-Americans and Latino-Americans, they've been less hospitable to Asian-Americans in the United States.

"Asian-Americans are locked out," said Phil Yu, who runs the pop-culture blog angryasianman.com. "There are definitely elements of racism, but it's also that audiences are not used to seeing Asian faces on the pop charts or on music videos, and record labels won't take a chance on that." Legaci can list its fellow travelers on one hand. There's the Pussycat Doll Nicole Scherzinger (her father is Filipino), the fledgling Filipino pop star Charice (who sings a duet with Iyaz on her first United States single, "Pyramid") and most famously, Allan Pineda, a k a Apl.de.ap, of the Black Eyed Peas.

Christine Balance, a professor of Asian-American studies at the University of California, Irvine, points out that while Latin and black music have longstanding currency in the industry, there's nothing comparable for Asian-Americans. "How do you market an Asian-American star?" she said. "African-Americans are foundational to U.S. popular culture, and for Latinos there's the adjective 'Latin' music that's used to describe a variety of musical forms. But Asians are still seen as foreign or alien to mainstream America."

Author Citation
Copyright © 2001- by C.N. Le. Some rights reserved.
Suggested reference: Le, C.N. . "New Books & Links: Asian American Art, Entertainment, & Media Images" Asian-Nation: The Landscape of Asian America. <http://www.asian-nation.org/headlines/2010/08/new-books-links-asian-american-art-entertainment-media-images/> ().
Short URL: http://www.asian-nation.org/headlines/?p=1630
Tags:

Translate Into Another Language