April 15, 2010
Written by C.N.
As part of this blog's mission of making academic research and data more easily accessible, understandable, and applicable to a wider audience and to practical, everyday social issues, I highlight new sociological books about Asian Americans and other racial/ethnic groups as I hear about them. A book's inclusion is for informational purposes only and does not necessarily mean a full endorsement of its complete contents.
In recent decades, mainstream American culture and Asian artistic expression have increasingly intersected with each other, leading to the increased popularity of such visual culture genres such as anime, remade Asian horror movies, stylized kung fu films, etc. These new books explore this emerging phenomenon from a sociological point of view.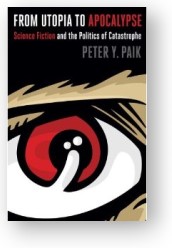 Revolutionary narratives in recent science fiction graphic novels and films compel audiences to reflect on the politics and societal ills of the day. Through character and story, science fiction brings theory to life, giving shape to the motivations behind the action as well as to the consequences they produce.

In From Utopia to Apocalypse, Peter Y. Paik shows how science fiction generates intriguing and profound insights into politics. He reveals that the fantasy of putting annihilating omnipotence to beneficial effect underlies the revolutionary projects that have defined the collective upheavals of the modern age.

Paik traces how this political theology is expressed, and indeed literalized, in popular superhero fiction, examining works including Alan Moore and Dave Gibbons's graphic novel Watchmen, the science fiction cinema of Jang Joon-Hwan, the manga of Hayao Miyazaki, Alan Moore's V for Vendetta, and the Matrix trilogy. Paik presents these fantasies as social constructions concerned with questions of political will and the disintegration of democracy rather than with the psychology of the personal.

What is urgently at stake, Paik argues, is a critique of the limitations and deadlocks of the political imagination. The utopias dreamed of by totalitarianism, which must be imposed through torture, oppression, and mass imprisonment, nevertheless persist in liberal political systems. With this reality looming throughout, Paik demonstrates the uneasy juxtaposition of saintliness and cynically manipulative realpolitik, of torture and the assertion of human dignity, of cruelty and benevolence.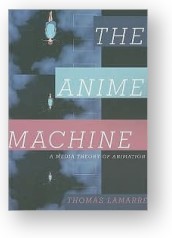 Despite the longevity of animation and its significance within the history of cinema, film theorists have focused on live-action motion pictures and largely ignored hand-drawn and computer-generated movies. Thomas Lamarre contends that the history, techniques, and complex visual language of animation, particularly Japanese animation, demands serious and sustained engagement, and in The Anime Machine he lays the foundation for a new critical theory for reading Japanese animation, showing how anime fundamentally differs from other visual media.

The Anime Machine defines the visual characteristics of anime and the meanings generated by those specifically "animetic" effects-the multiplanar image, the distributive field of vision, exploded projection, modulation, and other techniques of character animation-through close analysis of major films and television series, studios, animators, and directors, as well as Japanese theories of animation.

Lamarre . . . examines foundational works of anime, including the films and television series of Miyazaki Hayao and Anno Hideaki, the multimedia art of Murakami Takashi, and CLAMP's manga and anime adaptations, to illuminate the profound connections between animators, characters, spectators, and technology.

Working at the intersection of the philosophy of technology and the history of thought, Lamarre explores how anime and its related media entail material orientations and demonstrates concretely how the "animetic machine" encourages a specific approach to thinking about technology and opens new ways for understanding our place in the technologized world around us.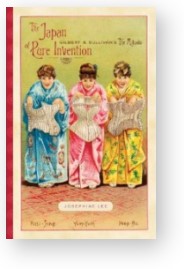 Long before Sofia Coppola's Lost in Translation, long before Barthes explicated his empire of signs, even before Puccini's Madame Butterfly, Gilbert and Sullivan's The Mikado presented its own distinctive version of Japan. Set in a fictional town called Titipu and populated by characters named Yum-Yum, Nanki-Poo, and Pooh-Bah, the opera has remained popular since its premiere in 1885.

Tracing the history of The Mikado's performances, Josephine Lee reveals the continuing viability of the play's surprisingly complex racial dynamics as they have been adapted to different times and settings. Lee connects yellowface performance to blackface minstrelsy, showing how productions of the 1938–39 Swing Mikado and Hot Mikado, among others, were used to promote African American racial uplift. She also looks at a host of contemporary productions and adaptations, including Mike Leigh's film Topsy-Turvy and performances of The Mikado in Japan, to reflect on anxieties about race as they are articulated through new visions of the town of Titipu.

The Mikado creates racial fantasies, draws audience members into them, and deftly weaves them into cultural memory. For countless people who had never been to Japan, The Mikado served as the basis for imagining what "Japanese" was.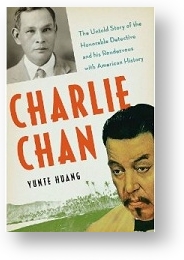 Chronicling the fraught narrative of one of Hollywood's most enduring cinematic detectives, English scholar Yunte Huang uncovers the untold story of the real "Charlie Chan," a bullwhip-wielding, five-foot Chinese-American detective whose raids on opium dens and gambling parlors transformed him into a Hawaiian legend. Huang, in fact, has created a historic drama where none was known to exist, brilliantly juxtaposing Chang Apana's personal story against a larger backdrop of territorial Hawaii, torn apart by virulent racism.

As Huang demonstrates, Apana's bravado and heroism inspired not only E. D. Biggers, a Harvard graduate turned celebrity mystery sleuth, to write six best-selling Charlie Chan novels, but Hollywood to manufacture over forty internationally popular Chan movies starring a wisecracking, grammatically challenged detective with a knack for turning Oriental wisdom into singsong Chinatown blues.

Examining hundreds of biographical, literary, and cinematic sources, both in English and in his native Chinese, Huang has created with Charlie Chan a literary tour-de-force that places "the honorable detective" on a larger stage, in the process presenting Asian-American history in a way it has never been told before.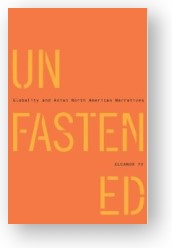 Unfastened examines literary works and films by Asian Americans and Asian Canadians that respond critically to globality—the condition in which traditional national, cultural, geographical, and economic boundaries have been—supposedly—surmounted.

In this wide-ranging exploration, Eleanor Ty reveals how novelists such as Brian Ascalon Roley, Han Ong, Lydia Kwa, and Nora Okja Keller interrogate the theoretical freedom that globalization promises in their depiction of the underworld of crime and prostitution. She looks at the social critiques created by playwrights Betty Quan and Sunil Kuruvilla, who use figures of disability to accentuate the effects of marginality.

Investigating works based on fantasy, Ty highlights the ways feminist writers Larissa Lai, Chitra Divakaruni, Hiromi Goto, and Ruth Ozeki employ myth, science fiction, and magic realism to provide alternatives to global capitalism. She notes that others, such as filmmaker Deepa Mehta and performers/dramatists Nadine Villasin and Nina Aquino, play with the multiple identities afforded to them by transcultural connections.

Ultimately, Ty sees in these diverse narratives unfastened mobile subjects, heroes, and travelers who use everyday tactics to challenge inequitable circumstances in their lives brought about by globalization.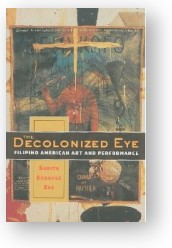 From the late 1980s to the present, artists of Filipino descent in the United States have produced a challenging and creative movement. In The Decolonized Eye, Sarita Echavez See shows how these artists have engaged with the complex aftermath of U.S. colonialism in the Philippines.

Focusing on artists working in New York and California, See examines the overlapping artistic and aesthetic practices and concerns of filmmaker Angel Shaw, painter Manuel Ocampo, installation artist Paul Pfeiffer, comedian Rex Navarrete, performance artist Nicky Paraiso, and sculptor Reanne Estrada to explain the reasons for their strangely shadowy presence in American culture and scholarship.

Offering an interpretation of their creations that accounts for their queer, decolonizing strategies of camp, mimesis, and humor, See reveals the conditions of possibility that constitute this contemporary archive. By analyzing art, performance, and visual culture, The Decolonized Eye illuminates the unexpected consequences of America's amnesia over its imperial history.

Author Citation
Copyright © 2001- by C.N. Le. Some rights reserved.
Suggested reference: Le, C.N. . "New Books: Visual & Literary Expression" Asian-Nation: The Landscape of Asian America. <http://www.asian-nation.org/headlines/2010/04/new-books-visual-literary-expression/> ().
Short URL: http://www.asian-nation.org/headlines/?p=1594
Tags:

Translate Into Another Language