December 18, 2009
Written by C.N.
As part of this blog's mission of making academic research and data more easily accessible, understandable, and applicable to a wider audience and to practical, everyday social issues, I highlight new sociological books about Asian Americans and other racial/ethnic groups as I hear about them. A book's inclusion is for informational purposes only and does not necessarily mean a full endorsement of its complete contents.
A year after Barack Obama's historic election as President of the United States of America, the following books examine the larger sociological context of his campaign and election, with a particular focus on the question of to what extent does his election signify any important change or improvement in race relations in the U.S.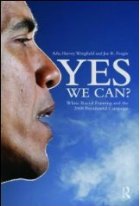 This book offers one of the first sociological analyses of Barack Obama's historic 2008 campaign for the presidency of the United States. Elaborating on the concept of the white racial frame, Harvey Wingfield and Feagin assess the ways racial framing was deployed by principal characters in the 2008 election. This book counters many commonsense assumptions about race, politics, and society, particularly the idea that Obama's election ushered in a post-racial era. Readers will find this book uniquely valuable because it relies on sound sociological analysis to assess numerous events and aspects of this historic campaign.
Barack Obama and African American Empowerment: The Rise of Black America's New Leadership, edited by Manning Marable and Kristen Clarke (Palgrave Macmillan)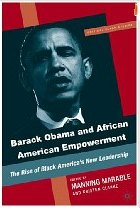 Barack Obama and the African-American Empowerment examines the evolution of black leadership and politics since the Civil Rights Movement. It looks at the phenomenon of Barack Obama, from his striking emergence as a successful candidate for the Illinois State Senate to President of the United States, as part of the continuum of African American political leaders. The reader also examines the evolving ideals about the roles of government and the economy in addressing the historic disadvantages experienced by many African Americans. Here, some of the nation's most influential intellectuals bring together original scholarship to look at the future of national politics and American race relations.
The Breakthrough: Politics and Race in the Age of Obama, by Gwen Ifill (Anchor Publishing)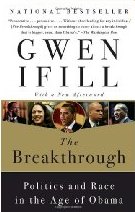 In The Breakthrough, veteran journalist Gwen Ifill surveys the American political landscape, shedding new light on the impact of Barack Obama's stunning presidential victory and introducing the emerging young African American politicians forging a bold new path to political power.

Ifill argues that the Black political structure formed during the Civil Rights movement is giving way to a generation of men and women who are the direct beneficiaries of the struggles of the 1960s. She offers incisive, detailed profiles of such prominent leaders as Newark Mayor Cory Booker, Massachusetts Governor Deval Patrick, and U.S. Congressman Artur Davis of Alabama (all interviewed for this book), and also covers numerous up-and-coming figures from across the nation.

Drawing on exclusive interviews with power brokers such as President Obama, former Secretary of State Colin Powell, Vernon Jordan, the Reverend Jesse Jackson, his son Congressman Jesse Jackson Jr., and many others, as well as her own razor-sharp observations and analysis of such issues as generational conflict, the race/ gender clash, and the "black enough" conundrum, Ifill shows why this is a pivotal moment in American history.

Author Citation
Copyright © 2001- by C.N. Le. Some rights reserved.
Suggested reference: Le, C.N. . "New Books: Barack Obama & American Race Relations" Asian-Nation: The Landscape of Asian America. <http://www.asian-nation.org/headlines/2009/12/new-books-barack-obama-american-race-relations/> ().
Short URL: http://www.asian-nation.org/headlines/?p=1553
Tags:

Translate Into Another Language