August 28, 2009
Written by C.N.
As part of this blog's mission of making academic research and data more easily accessible, understandable, and applicable to a wider audience and to practical, everyday social issues, I highlight new sociological books about Asian Americans and other racial/ethnic groups as I hear about them. This time around, two new books examine the history and contemporary dynamics of two sets of Asian American enclaves: Chinatowns and Little Saigons.
Little Saigons: Staying Vietnamese in America, by Karin Aguilar-San Juan (University of Minnesota Press)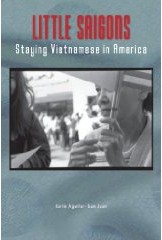 Karin Aguilar-San Juan examines the contradictions of Vietnamese American community and identity in two emblematic yet different locales: Little Saigon in suburban Orange County, California (widely described as the capital of Vietnamese America) and the urban "Vietnamese town" of Fields Corner in Boston, Massachusetts. Their distinctive qualities challenge assumptions about identity and space, growth amid globalization, and processes of Americanization.

With a comparative and race-cognizant approach, Aguilar-San Juan shows how places like Little Saigon and Fields Corner are sites for the simultaneous preservation and redefinition of Vietnamese identity. Intervening in debates about race, ethnicity, multiculturalism, and suburbanization as a form of assimilation, this work elaborates on the significance of place as an integral element of community building and its role in defining Vietnamese American-ness.

Staying Vietnamese, according to Aguilar-San Juan, is not about replicating life in Viet Nam. Rather, it involves moving toward a state of equilibrium that, though always in flux, allows refugees, immigrants, and their U.S.-born offspring to recalibrate their sense of self in order to become Vietnamese anew in places far from their presumed geographic home.
American Chinatown: A People's History of Five Neighborhoods, by Bonnie Tsui (Free Press)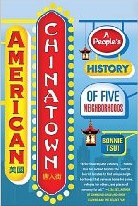 In American Chinatown, acclaimed travel writer Bonnie Tsui takes an affectionate, attentive look at the neighborhood that has bewitched her since childhood, when she eagerly awaited her grandfather's return from the fortune cookie factory.

Tsui visits the country's four most famous Chinatowns — San Francisco, New York, Los Angeles, Honolulu — and makes her final, fascinating stop in Las Vegas; in her explorations, she focuses on the remarkable experiences of ordinary people. Tsui beautifully captures their vivid stories, giving readers a deeper look into what "Chinatown" means to its inhabitants, what each community takes on from its American home, and what their experience means to America at large. American Chinatown is an all-access pass.

Author Citation
Copyright © 2001- by C.N. Le. Some rights reserved.
Suggested reference: Le, C.N. . "New Books: Chinatowns & Little Saigons" Asian-Nation: The Landscape of Asian America. <http://www.asian-nation.org/headlines/2009/08/new-books-chinatowns-little-saigons/> ().
Short URL: http://www.asian-nation.org/headlines/?p=1495
Tags:

Translate Into Another Language