August 31, 2009
Written by C.N.
As our world becomes increasingly globalized and interconnected in the 21st century, what happens in one country is more likely than ever to affect what happens in other countries. The global recession that started here in the U.S. is direct proof of that. But in addition to political and economic matters, globalization also involves the diffusion of culture, attitudes, and beliefs from one country to another.
Within this context, it's in everybody's interests — particularly for Americans — to understand what citizens from people of different countries around the world feel about various global issues. To help in that process, the well-respected Pew Research Groups has released an interactive compilation of their Global Attitudes Project Key Indicators Database that compares international attitudes on a variety of issues:
This interactive database allows users to explore public opinion trends in 55 countries on topics ranging from attitudes toward the U.S. to people's assessments of their own lives to views about globalization, democratization, extremism and other important issues.

Data can be searched by question, by topic or by country – and results can be displayed in map, table or chart formats. The findings are from eight surveys conducted by the Pew Global Attitudes Project from 2002-2009 among a total of more than 200,000 respondents.
Perhaps the most telling result whether citizens around the world have a favorable or unfavorable attitude overall towards the U.S. As shown below, the results show some wide fluctuations between countries and in some cases, within the same country across time (click on the graphic below to see a full-size version):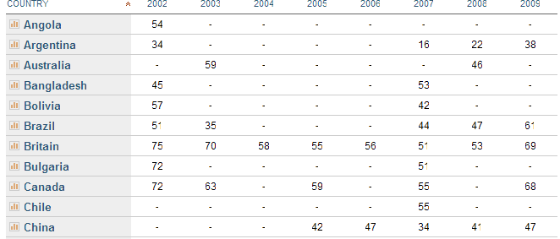 For example, European countries such as Britain, France, and Germany had high favorable attitudes of the U.S. in 2002, then declined roughly 50% in just a couple of years, then have rebounded to even higher levels in 2009 with the election of President Obama.
On the flip side, three of the U.S.'s key allies — Japan, Pakistan, and Russia — experienced a slight decline in favorable attitudes toward the U.S. between 2007/2008 and 2009 (some of which probably relates to the U.S. plunging the world into a global recession).
So what's the take-home message here? These particular results (of course, there are many others to peruse) go to show that international attitudes can change rather quickly and can be influenced by a wide variety of reasons.