May 18, 2009
Written by C.N.
As part of this blog's mission of making academic research and data more easily accessible, understandable, and applicable to a wider audience and to practical, everyday social issues, I highlight new sociological books about Asians/Asian Americans and other racial/ethnic groups as I hear about them. As always, please remember that I highlight them for informational purposes only and do not necessarily endorse their entire content or arguments.
Prisoner of the State: The Secret Journal of Premier Zhao Ziyang (Simon & Schuster)
China has been in the news for several issues recently including the Summer Olympics, human rights abuses, faulty and dangerous consumer goods, etc. But for those who remember, 1989 was a monumental year for China. In the spring of that year, thousands of college students and their supporters camped out in Tiananmen Square, demonstrating for political reform and increased individual freedoms. After a tense two weeks, on June 4, 1989, the communist government finally sent in troops to crush what it perceived to be a "rebellion."
Most estimates are that in the crackdown, over a thousand Chinese protesters were killed by government troops. Several of the student leaders were ultimately imprisoned, executed, or just disappeared while a few were able to flee China and gain asylum in other countries. One of the most indelible images from the Tienanmen Square events was the picture of the "tank man" — a lone Chinese man who stood down a line of tanks and who came to symbolize the courage of individuals standing up to government corruption and tyranny.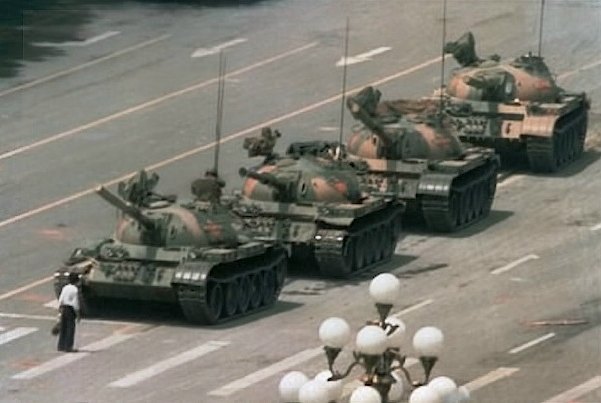 One other prominent part of the Tienanmen Square events was Zhao Ziyang, China's Communist Party General Secretary at the time. Initially seen as a reformer and rising star within the China's government, he attempted to mediate the protesters' demands with communist officials, notably Deng Xiaoping, China's ultimate leader at the time. Ultimately, he was basically fired just before the crackdown and put under house arrest until his death in 2005.
As the New York Times reports, during his house arrest, Zhao secretly recorded his memoirs which is now being published as a book entitled, Prisoner of the State: The Secret Journal of Premier Zhao Ziyang:
One striking claim in the memoir, scholars who have seen it said, is that Mr. Zhao presses the case that he pioneered the opening of China's economy to the world and the initial introduction of market forces in agriculture and industry — steps he says were fiercely opposed by hard-liners and not always fully supported by Mr. Deng, the paramount leader, who is often credited with championing market-oriented policies. . . .

Roderick MacFarquhar, a China expert at Harvard who wrote an introduction to the new book, said it had given him a new appreciation of Mr. Zhao's central role in devising economic strategies, including some, like promoting foreign trade in coastal provinces, that he had urged on Mr. Deng, rather than the other way around. "Deng Xiaoping was the godfather, but on a day-to-day basis Zhao was the actual architect of the reforms," Mr. MacFarquhar said. . . .

Although the tumult of 1989 is distant for many Chinese, it remains a forbidden subject, heavily censored on the Internet and rarely if ever mentioned in the state-run media. Beijing authorities are likely to be unhappy with Mr. Zhao's airing of inside conflicts. . . In a sharp break with Chinese Communist tradition, even for dismissed officials, Mr. Zhao provides personal details of tense party sessions. . . .

Mr. Zhao said that in 1989 he argued that most of the demonstrating students "were only asking us to correct our flaws, not attempting to overthrow our political system." . . . Perry Link, professor emeritus of Chinese Studies at Princeton said, "Laying bare the personal animosities from such a high position is something new here. It's certainly the element that will send officials in Beijing through the roof."
Undoubtedly Zhao Ziyang remains a controversial figure for Chinese Americans and Chinese all around the world. Nonetheless, for those interested in China and the events of the Tiananmen Square protests of 1989, this book promises to give an unprecedented inside look into the political and personal issues within China's communist regime.

Author Citation
Copyright © 2001- by C.N. Le. Some rights reserved.
Suggested reference: Le, C.N. . "New Book: Zhao Ziyang & Tiananmen Square Protests" Asian-Nation: The Landscape of Asian America. <http://www.asian-nation.org/headlines/2009/05/new-book-zhao-ziyang-tiananmen-square-protests/> ().
Short URL: http://www.asian-nation.org/headlines/?p=1252
Tags:

Translate Into Another Language