March 13, 2008
Written by C.N.
Following up on yesterday's post, I'd like to make another plug for the fourth annual national Vietnamese American Student Conference (VASCON4), taking place at Georgetown University and the Marriott Conference and Hotel from April 4-6, 2008:
—————————————–
VASCON4 is hoping to bring nearly 300 students from universities, colleges, and high schools to discuss the most pressing domestic and international issues facing the Vietnamese American community today.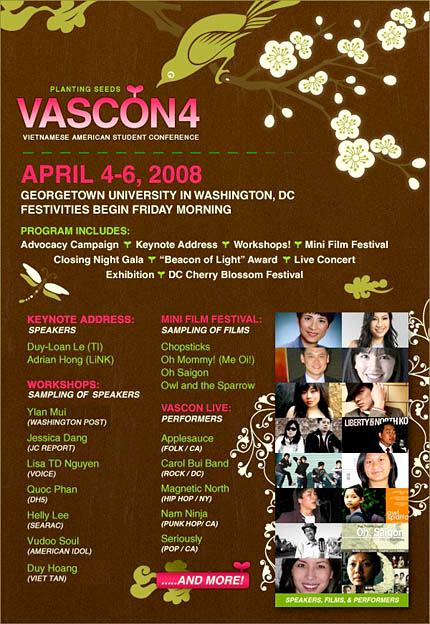 Themed "Planting Seeds", our mission this year is to educate, inspire, and equip attendees with the knowledge and resources to develop personal growth and leadership skills. The ultimate goal is to encourage participants to go back to their respective communities and plant their own "seeds of change" — fostering the advancement of the Vietnamese American community and beyond.
Planting seeds at home or abroad, the issues will take on new life as they become exposed to the energy of our community, and together we hope to contribute to and continue the cycle of a quickly blossoming student activist movement.
—————————————–
The organizers tried very hard to get me to participate but for various reasons, I will not be able to this year. Nonetheless, I completely support their efforts and encourage everyone to make an effort to attend and start making a difference in their community.

Author Citation
Copyright © 2001- by C.N. Le. Some rights reserved.
Suggested reference: Le, C.N. . "Vietnamese American Student Conference" Asian-Nation: The Landscape of Asian America. <http://www.asian-nation.org/headlines/2008/03/vietnamese-american-student-conference/> ().
Short URL: http://www.asian-nation.org/headlines/?p=571
Translate Into Another Language