November 7, 2007
Written by C.N.
For years now, the Asian Pacific American Media Coalition (APAMC) has given out an annual "report card" to each of the major television networks on how racially inclusive its shows are regarding the representation of Asian Americans as actors, producers, writers, etc. The summary of grades for each of the four major national networks is below, followed by an excerpt of APAMC's statement and summary of the grades: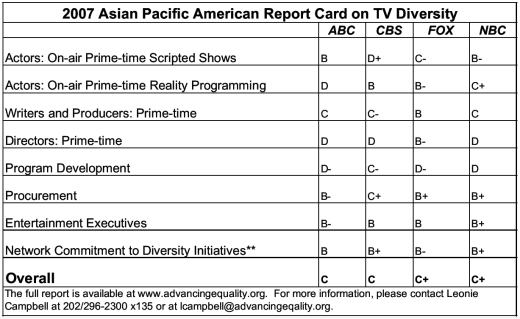 The Asian Pacific American Media Coalition (APAMC) is disappointed in the degree of progress that has been made by the four major networks — ABC, CBS, FOX and NBC — none of which improved their overall grades from last year.

Overall, only 29 Asian Americans were cast in regular roles in prime-time, only two more than last year. And many of the regular roles are not quality roles with significant air time. When compared to other racial groups, APAs are still far less likely to be in starring roles in prime-time programming, although a number of shows are set in cities with high APA populations. Furthermore, APAs are the only ethnic group that does not boast someone as the star of his/her own show.

The Coalition is pleased to see that the number of APA writers and producers have rebounded from the severe drop last year. However, there are still too few APA and other minority writers and producers on prime-time shows; and too few in charge of creative decisions.

As a result, there are only a small number of fully developed, quality roles for APA actors. This continuing deficiency of APAs and other minorities in key decision making positions also results in incidents such as the recent slur against Filipino American physicians made on Desperate Housewives.

Standout shows that have excellent roles for APA actors are ABC's Grey's Anatomy and NBC's Heroes. Grey's Anatomy, which has Shonda Rhimes, an African American woman as show runner, illustrates the importance of providing opportunities for talented minority writers which helps to foster the creation of roles depicting minorities, including APAs, as quality, non-stereotypical characters. Both shows are good examples of how addressing the nation's growing diversity can lead to both commercial and critical success.

Of great concern to us this year, is the declining number of opportunities for APA directors, which fell from 27 the previous year to 23 this year. Growing the number of APA directors working on prime-time shows is also crucial to increasing the presence of well-rounded APA characters with quality stories.

Of even greater concern is the serious lack of development deals in the pipeline at any of the networks that would lead to shows starring an Asian American as the central character or featuring Asian Americans as a couple or a family.
I don't actually watch much television, so I can't really add much more to what the APAMC already describes. Instead, I want to reiterate one point in particular with which I strongly agree: increasing the number of "decisionmakers" at each network is absolutely critical.
In other words, it is nice to have more Asian American actors and roles, but the place where it all starts is at the executive level where senior executives, producers, and senior writers decide which shows are made, which characters are included, what are the plots, and who should be cast in them. That is where the "real action" takes place and that is where it is essential for Asian Americans to be present when such basic and high-level decisions are made.
That is true whether we're talking about the corporate/business world in general or the network television business — Asian Americans need to become the decisionmakers for any real change to eventually take place.

Author Citation
Copyright © 2001- by C.N. Le. Some rights reserved.
Suggested reference: Le, C.N. . "TV Diversity Report Card 2007" Asian-Nation: The Landscape of Asian America. <http://www.asian-nation.org/headlines/2007/11/tv-diversity-report-card-2007/> ().
Short URL: http://www.asian-nation.org/headlines/?p=505
Translate Into Another Language