October 19, 2007
Written by C.N.
As a member of Generation X, I would guess that most young Asian Americans — like the students in my classes at UMass — probably think that I'm pretty much an old geezer these days. To be honest, they're probably right.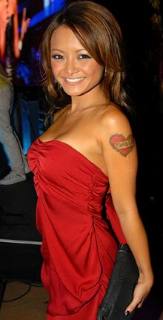 In addition to my ever-increasing age, I actually don't watch much TV and therefore, am not very attuned to who different celebrities are these days. That includes Tila Tequila, who I have learned, is a young Vietnamese American who will be starring in her own reality TV show:
Tequila, née Tila Nguyen, is famous for nothing more than having in excess of 1 million buddies on MySpace. At least, that's all for now. The 25-year-old is launching a music career, an Internet startup and a MTV reality show.

The last is the most titillating. It's called "A Shot at Love With Tila Tequila," and it sounds like "The Bachelorette" with a spicy twist. Since the former Playboy model is bisexual, she's looking for love from a pool of 16 guys—and 16 girls. Will she discover true happiness, or at the very least another 15 more minutes of fame?
Generally, as long as they're not doing something illegal or egregiously immoral or deviant, I tend to support Asian Americans (and in Tila's case a fellow Vietnamese American) and their quest to become popularly famous. As one example, I have to admit that unlike many Asian Americans, I generally did not denounce William Hung and his exploits.
So how do I feel about Tila Tequila in this instance? The same way I felt about William Hung: I hope she's happy and I wish her the best, but don't expect me to partake and tune into her show any time soon.

Author Citation
Copyright © 2001- by C.N. Le. Some rights reserved.
Suggested reference: Le, C.N. . "Tila Tequila and Her Reality TV Show" Asian-Nation: The Landscape of Asian America. <http://www.asian-nation.org/headlines/2007/10/tila-tequila-and-her-reality-tv-show/> ().
Short URL: http://www.asian-nation.org/headlines/?p=496
Translate Into Another Language