August 23, 2007
Written by C.N.
Unless you've been living under a rock for the last year or so, you know that China is all over the news lately. And almost all of that media and public attention has not been flattering. To add more fuel to the fire, the Washington Post has an article describing the controversy surrounding the upcoming memorial to Martin Luther King, Jr. to be placed in Washington DC — the sculptor is from China: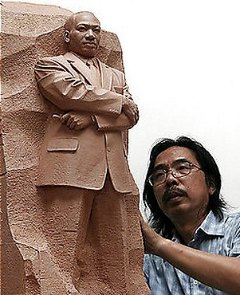 For China's artists, the selection of [Yixin] Lei as the lead sculptor for the project, to be unveiled in 2009 on the Mall, is a triumphant moment. It is a recognition of how rapidly their status has progressed in the generation that has grown up since the repressive years of the Cultural Revolution.

Not everyone feels this way. Atlanta resident Lea Winfrey Young says the "outsourcing" by U.S. companies and organizations to China has gone too far this time. She and her husband, Gilbert Young, a painter, are leading a group of critics who argue that an African American — or any American — should have been picked for such an important project.

"Dr. King's statue is to be shipped here in a crate that supposedly says 'Made in China.' That's just obscene," Winfrey Young says. By awarding the contract to a Chinese artist, the foundation financing the project has touched on sensitivities at the core of U.S.-Sino relations: nationalism, racism and worries about what China's emergence as an economic and cultural world power means for America. . . .

In Lei's home town of Changsha, the capital of Hunan province, talk of the controversy in the United States draws not anger but bewilderment. Wasn't it King's dream to end all racism? Lei asked. "He has always dreamed that people from all over the world will not be judged by the color of their skin — that we would all be brothers and sisters and enjoy equal opportunity. Now I have the luck to get this opportunity," he said.
To be fair, I can see where the criticisms on the choice of sculptor come from. The Civil Rights Movement was a defining moment not only for American society and history, but particularly for the African American community. It was a proud and shining moment in which they collectively showed their strength, determination, and pride. Their most important leader of course, was Martin Luther King Jr.
Since he was the most visible public figure from such a socially significant time period and represents an almost God-like hero to the entire African American community, I can see why Blacks feel insulted that the sculptor for a monument to their leader was not "one of them." There are parallels to the Asian American community, such as in the examples of "yellowface" where White actors are cast to portray Asian characters, the most recent example of which was Brian Dennehy playing Kublai Khan.
At the same time, Lei's supporters are absolutely right when they say that one of Dr. King's most enduring legacies is that people should be judged not by the color of their skin but by the content of their character. In this case, the sculptor was chosen for the quality and impact of his creative work. It just so happened that he is Chinese.
In recent incidents about the sub-par and even dangerous quality of goods made in China, Americans certainly have a right to complain and to be wary of such Chinese "products." But in this case, Dr. King's memorial is not being "outsourced" overseas like it is some kind of t-shirt or toothpaste or running shoe. It is being created by a world-renown artist who happens to be Chinese.
If we recall, the some of the same criticisms were leveled at Maya Lin when she won the competition to design the Viet Nam Veterans Memorial Wall in Washington DC. Many veterans were insulted and offended that the lead designer was not "one of them," otherwise phrased as a White male, or at least someone who more accurately fit the conventional picture of an "American."
But as it turned out, the Viet Nam War Memorial is the most popular attraction in Washington DC and Maya Lin's simple, elegant, and poignant design has proved incredibly moving and healing to millions of Americans from all backgrounds.
I would like to ask the African American community to give Yixin Lei the same opportunity to come through with an equally impressive tribute.

Author Citation
Copyright © 2001- by C.N. Le. Some rights reserved.
Suggested reference: Le, C.N. . "Controversy Over Martin Luther King Memorial" Asian-Nation: The Landscape of Asian America. <http://www.asian-nation.org/headlines/2007/08/controversy-over-martin-luther-king-memorial/> ().
Short URL: http://www.asian-nation.org/headlines/?p=471
Translate Into Another Language