January 16, 2007
Written by C.N.
For the past couple of years, much of the golf world's attention has been focused on Michelle Wie and her attempts to compete in PGA men's golf tournaments. Despite her immense talent and the equally immense hype surrounding it, she has yet to make the cut in any of the men's tournaments. This weekend however, she is being overshadowed by another young Asian American golf prodigy, Tadd Fujikawa (who earlier became the youngest person to qualify for the U.S. Open):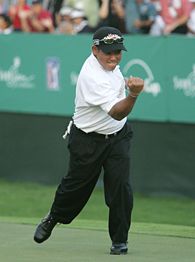 Four days after he celebrated his 16th birthday, Fujikawa shot a 4-under 66 to become the youngest player in 50 years to make the cut on the PGA Tour. . . . The cheer for Fujikawa's eagle putt could be heard all the way to the clubhouse, where the 17-year-old Wie was wrapping up her press conference after a 76 to miss the cut for fourth straight time in the Sony Open, this time by 14 shots. . . .

He was assured of making the cut when he found the fairway on the 551-yard closing hole, and when he hit 6-iron from 207 yards to 15 feet, just left of the hole. Boo Weekley and Steve Wheatcroft were playing with him, and they graciously waited behind so Fujikawa could walk alone to the 18th green and soak in the applause. That gesture normally is reserved for champions, and the kid sure felt like one Friday.
Tadd eventually finished tied for 20th in the tournament, which is excellent for a 16 year old amateur. Both Michelle and Tadd have bright futures and successful careers ahead of them. But at this point, it looks like one is still struggling to live up to her hype while another is poised to take the golf world by storm, just like another (part) Asian American golfer did about ten years ago. That's a lot of pressure to put on a teenager, but so far, Tadd seems to be handling it — and performing up to it — just fine.

Author Citation
Copyright © 2001- by C.N. Le. Some rights reserved.
Suggested reference: Le, C.N. . "Michelle Wie Being Overshadowed by Tadd Fujikawa" Asian-Nation: The Landscape of Asian America. <http://www.asian-nation.org/headlines/2007/01/michelle-wie-being-overshadowed-by-tadd-fujikawa/> ().
Short URL: http://www.asian-nation.org/headlines/?p=358
Translate Into Another Language