September 12, 2006
Written by C.N.
When many of us think of au pairs (young women — sometimes men — who come to live and work in the U.S. in a family's home), usually we think of them coming from European countries. In recent years however many are increasing coming from China. As the New York Times reports, there are a few different reasons for this trend, as well as different challenges involved in recruiting au pairs from China: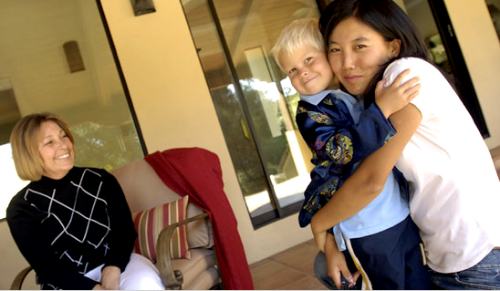 Their services are in great demand, in part because so many Americans have adopted baby girls from China. Driving the need more aggressively is the desire among ambitious parents to ensure their children's worldliness, as such parents assume that China's expanding influence will make Mandarin the sophisticates' language decades hence. . . .

The last two years have seen an astonishing increase in the number of American parents wishing to employ Mandarin-speaking nannies, difficult to find here and even harder to obtain from China. Au Pair in America had received no requests for Chinese au pairs until 2004, said Ruth Ferry, the program director. Since then, it has had 1,400. . . .

Among Chinese-Americans, it is difficult to come upon young women interested in child-care careers, nanny agency representatives say. In China's new culturally progressive climate, biases against such domestic work prevail. Ms. Zhang, one of the au pairs who arrived last week and moved in with a family in New Hampshire, said her parents had initially disapproved of her decision, especially because she was then working in customer service for Continental Airlines in Beijing.

"There are prejudices about being a baby sitter," she remarked. "They said: 'You have a great job coming out of college. Why would you want to go to America to take care of children?'"
I find it interesting that many Chinese apparently look down upon working as an au pair because it apparently represents settling for a lower-status job compared to what young Chinese women can expect to make nowadays. In other words, perhaps 10 or 15 years ago, Chinese women (and presumably their families as well) probably would have jumped at the chance to come and work in the U.S.
But now that China's economy has exploded, its society modernizing, and the country has become an emerging global superpower, expectations and aspirations are different. Working in childcare is now largely seen as a step back for Chinese women. It just goes to show how globalization and modernization can change individual and national perceptions in a very short amount of time.

Author Citation
Copyright © 2001- by C.N. Le. Some rights reserved.
Suggested reference: Le, C.N. . "More Au Pairs Coming From China" Asian-Nation: The Landscape of Asian America. <http://www.asian-nation.org/headlines/2006/09/more-au-pairs-coming-from-china/> ().
Short URL: http://www.asian-nation.org/headlines/?p=298
Translate Into Another Language