May 9, 2006
Written by C.N.
I just read on AngryAsianMan.com that DC Comics has created a new Asian American hero character, a Korean American scientist who becomes the superhero Atom.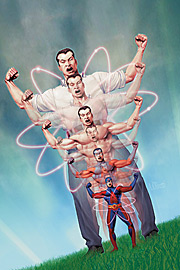 I'm not a comic book fan, but I had generally believed that if Asian or Asian American characters were included in comic books that they were almost always villains or helpless victims. It's very nice to finally see that Asian Americans can be superheroes as well.
Now we'll just have to see whether this new Asian American Atom ends up with the girl as well . . .

Author Citation
Copyright © 2001- by C.N. Le. Some rights reserved.
Suggested reference: Le, C.N. . "New Asian American DC Comics Hero" Asian-Nation: The Landscape of Asian America. <http://www.asian-nation.org/headlines/2006/05/new-asian-american-dc-comics-hero/> ().
Short URL: http://www.asian-nation.org/headlines/?p=245
Translate Into Another Language