March 16, 2006
Written by C.N.
Have you ever wondered how people type in Chinese? In other words, while English (and other letter-based languages) speakers like us have only around 26 Roman letters to use, the Chinese use thousands of characters to represent their language. Do they have a giant keyboard with thousands of keys on it? Of course not — it's actually quite simple and users have different options:
In the Peoples' Republic of China, most computer users type out their Chinese in transliteration, using the standard Roman alphabet keys on a QWERTY keyboard. To generate a character, you type out its sound according to the same spelling system — called Pinyin — The computer automatically converts the Pinyin spelling to the correct Chinese characters on the screen. . . . If the computer still doesn't have enough information to pick a character, you'll have to choose from a pop-up list of possibilities. . . .

Speed-typists in mainland China use another input method called Wubi. To type a character in Wubi, you punch in a sequence of keys that corresponds to what it looks like and how it's drawn. A Wubi-configured keyboard looks just like the Western version but is divided into five regions for different types of pen strokes: left-falling, right-falling, horizontal, vertical, and hook.

You "spell" a character by typing out up to four strokes, in the order in which you'd draw them on paper. If he knows what he's doing, a Wubi typist can produce up to 160 characters per minute. . . . Older people who aren't comfortable with typing might be more inclined to use an electronic writing tablet instead. The precise strokes of Chinese characters make them relatively easy for a computer to distinguish.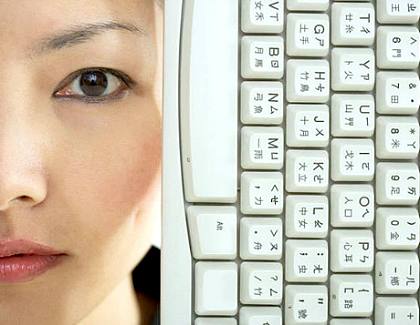 Pretty interesting, I think, to now know how more than a billion people do the same things we do but using a different method. To paraphrase the old saying, "different (key)strokes for different folks" — diversity in action.

Author Citation
Copyright © 2001- by C.N. Le. Some rights reserved.
Suggested reference: Le, C.N. . "Typing in Chinese" Asian-Nation: The Landscape of Asian America. <http://www.asian-nation.org/headlines/2006/03/typing-in-chinese/> ().
Short URL: http://www.asian-nation.org/headlines/?p=217
Translate Into Another Language