June 22, 2005
Written by C.N.
CBS News and other media outlets are covering Vietnamese Prime Minister Phan Van Khai's visit to the U.S. this week and his attempts to win the U.S.'s support for Viet Nam to join the World Trade Organization.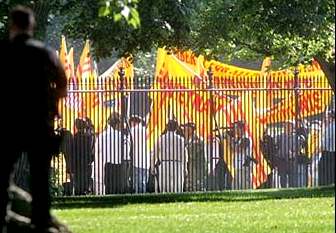 Not surprisingly, two other issues are at the forefront — Americans still want Viet Nam to provide a fuller accounting of U.S. military personnel who are still listed as "missing in action" and as shown by the picture above, Vietnamese Americans are following Phan's visits to protest the communist government and its record on human rights and civil liberties in Viet Nam:
[Khai] said although there were cultural and historic differences between the United States and Vietnam he and Mr. Bush agreed the two nations could work together to reduce differences and improve bilateral relations. Khai's talk with Mr. Bush is part of a weeklong visit to the United States where he is meeting with business leaders on both coasts. Khai is ringing the opening bell at the New York Stock Exchange later this week — evidence of Vietnam's economic gains over the years. . . .

After his discussions with Mr. Bush, Khai planned to meet with Defense Secretary Donald H. Rumsfeld. Military ties between the two countries have included periodic docking of U.S. warships in Vietnam and plans for U.S. military training of Vietnamese officers. Intelligence sharing and cooperation on counterterrorism activities also are part of the mix. Also Tuesday, officials from the two countries will sign an agreement at the State Department to cooperate on adoptions.

While Khai will want to talk about business, Mr. Bush is being pressured by human rights groups and some members of Congress to link any trade concessions with improvements in Vietnam's human rights record. The U.S.-based Human Rights Watch says it has documented cases of abuses by the communist government, including the arrests of dissidents for promoting democracy or human rights. In Seattle, Khai was greeted by demonstrators who shouted "Down with communists!" and called for an end to political and religious persecution.
Ahhh, international politics at its best . . .

Author Citation
Copyright © 2001- by C.N. Le. Some rights reserved.
Suggested reference: Le, C.N. . "Vietnamese Prime Minister Visiting the U.S." Asian-Nation: The Landscape of Asian America. <http://www.asian-nation.org/headlines/2005/06/vietnamese-prime-minister-visiting-us/> ().
Short URL: http://www.asian-nation.org/headlines/?p=102
Translate Into Another Language