January 21, 2005
Written by C.N.
The FBI has notified law enforcement authorities in the northeast about a possible terror plot that involves about 10-14 Chinese nationals who may be be planning some kind of terrorist attack against Americans involving some sort of nuclear or "dirt" bomb in the Boston area.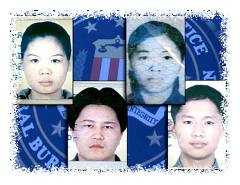 This alert is significant because, as far as I know, it is the first time that an Asian or Asian American has been identified as a possible front-line terrorist (as opposed to being suspected of espionage or assisting terrorist suspects).
It will be interesting to see how law enforcement officials handle this alert, especially since many authorities believe that this "tip" is nothing more than an act of revenge against these Chinese for failing to pay a smuggler who helped them enter the U.S. illegally. Will they treat this alert just like all the other ones that I'm sure they receive on a daily basis, or will this particular alert receive extra attention, perhaps based on the implicit assumption that, once again, Asians are perpetual foreigners and therefore, not "real" Americans.
Even though the FBI has actual names and photographs in this case, should we expect another case of racial profiling here, where virtually all Chinese Americans (and by implication, virtually all Asian Americans) are suspected? We'll have wait and see.
Latest update: The FBI is now saying that as I suspected, this terror alert was a false alarm and that the person who made the original tip most likely did do so out of revenge against the Chinese immigrants. It's nice to know the truth, but I find it interesting how much attention this alert got even when the FBI itself admitted that it was never substantiated nor independently verified.

Author Citation
Copyright © 2001- by C.N. Le. Some rights reserved.
Suggested reference: Le, C.N. . "Terror Alert for Chinese Immigrants" Asian-Nation: The Landscape of Asian America. <http://www.asian-nation.org/headlines/2005/01/terror-alert-for-chinese-immigrants/> ().
Short URL: http://www.asian-nation.org/headlines/?p=46
Translate Into Another Language