January 11, 2005
Written by C.N.
Perhaps you may have heard about Michelle Wie, the 15 year old Asian American golf phenom and rising star of the women's golfing world. She's been described as the next Tiger Woods and as this New York Times article describes, she'll be once again competing head-to-head against many of the top male golfers in the world this weekend: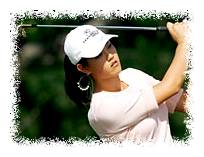 During a magical two days at last year's Sony Open in Hawaii, Wie impressed her competitors and bruised a few egos, shooting 72 and 70 to finish two over, missing the cut by one stroke, and finishing ahead of 48 players, including three who have won major championships – Todd Hamilton, Jeff Sluman and Craig Stadler.

After last year's experience, and with so many Waialae practice rounds under her belt, Wie did not hesitate when asked about her goals for the week. "To do a lot better than last year, to make the cut," Wie said when interviewed after last week's Mercedes Championships pro-am. "A top 20 would be fantastic, if everything works out well."

Reminded that to finish in the top 20 she would have to beat more than 120 men, Wie flashed her photogenic smile and said, "That would be really cool."
Michelle is also one of several up-and-coming Asian and Asian American women golfers who have taken the Ladies Professional Golf Association by storm. Notables include Se Ri Pak, Grace Park, Aree Song, Jinnie Lee, Ya-Ni Tseng, In-Bee Park, Mi-Hyum Kim, Jung Yeon Lee, Jennifer Rosales, Christina Kim, and Seol-An Jeon, to name just a few.
Asian Americans are not well represented in many professional sports, so it's nice to see that we're doing well women's golf. Good luck to everyone and in particular, go get 'em, Michelle!

Author Citation
Copyright © 2001- by C.N. Le. Some rights reserved.
Suggested reference: Le, C.N. . "Look Out For Michelle Wie" Asian-Nation: The Landscape of Asian America. <http://www.asian-nation.org/headlines/2005/01/look-out-for-michelle-wie/> ().
Short URL: http://www.asian-nation.org/headlines/?p=44
Translate Into Another Language