January 10, 2005
Written by C.N.
Those of you who are "automotive enthusiasts" probably know by now that the North American International Auto Show in Detroit and the Los Angeles International Auto Show are going on right now. And one of the most anticipated debuts in both shows is the latest Ford Mustang, which blends retro styling from the first Mustangs of the 1960s and early 1970s with brand new and (mostly) up-to-date mechanics and performance.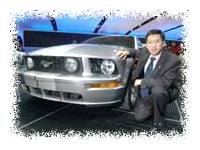 But did you also know that the man mainly credited with bringing this new Mustang to life is a Vietnamese American named Hau Thai-Tang? Mr. Thai-Tang is clearly a rising star within the Ford corporation and was also recently named as Director of Ford's well-respected "Special Vehicles Team" operation. As various media outlets such as USA Today have described, like many Vietnamese Americans, Mr. Thai-Tang was a refugee who fled Viet Nam with his family at a relatively early age and eventually settled in the U.S. He eventually came to Ford as a race car engineer and then landed the assignment as Chief Engineer of the new Mustang.
It's always nice to see a fellow Asian- and Vietnamese-American (especially a male) doing well and representing our community in a professional that's not usually identified with Asian Americans. Way to go, Hau!

Author Citation
Copyright © 2001- by C.N. Le. Some rights reserved.
Suggested reference: Le, C.N. . ""Father" of the Newest Mustang" Asian-Nation: The Landscape of Asian America. <http://www.asian-nation.org/headlines/2005/01/father-of-the-newest-mustang/> ().
Short URL: http://www.asian-nation.org/headlines/?p=43
Translate Into Another Language