December 4, 2004
Written by C.N.
Originally posted Mar. 2004
William Hung is a college student at U.S. Berkeley, majoring in engineering. Several months ago, he decided to appear on the tv show "American Idol," singing Ricky Martin's song "She Bangs." The problem is, William can't really sing that well. Combined with the Simon Cowell's famous reputation for being blunt, the results were rather predictable. As expected, Simon ridiculed William by telling him, "You can't sing, you can't dance, what do you have to say for yourself?"
William's response was basically, "I did my best and I have no regrets." The public's response to William since then has been anything but predictable. Literally overnight, William became an instant celebrity, not for his singing, but for his upbeat attitude and honest and genuine attempt to do something he always wanted to do, no matter who thought he was good enough to do it or not.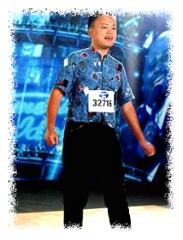 Since then, he has been signed to a record contract and now appears on his own music CD, has been written up and featured in several major media outlets, and has made appearances on such tv shows as The Tonight Show and the Jimmy Kimmel show.
However, not all Asian Americans have been enamoured by all this attention William has been getting. Some have started to question whether all this notoriety and publicity that he's received is a genuine expression of appreciation and inspiration, or if it's a form of ridicule and public humilation — sort of like a clown or freak show being paraded around for people to laugh at and that he's reinforcing the image of Asians as geeky and nerdy.
In response, others have defended William as someone who's not afraid to just be himself — flaws, quirks, and all. They also point out that in criticizing William and feeling embarrassed by him, his detractors seem to be wrestling with their own images of Asian masculinity, not William's image of himself.
Where do I stand? As I've described repeatedly throughout Asian-Nation, both Asian and non-Asians cannot expect all Asian Americans to be alike — there is just too much diversity within our community as they apply to demographics, culture, politics, socioeconomic attainment, etc. That includes people (or more specifically cultural images) such as William.
Are some APAs embarrassed by him? Sure. I personally can't tolerate more than about 15 seconds of his singing before I cringe. But is he doing a disservice to the APA community? I don't think so. Rather than expecting all Asians to be the same, we should embrace the diversity within our community, even as we disagree on its ultimate meaning.

Author Citation
Copyright © 2001- by C.N. Le. Some rights reserved.
Suggested reference: Le, C.N. . "William Hung Mania Sweeps the U.S." Asian-Nation: The Landscape of Asian America. <http://www.asian-nation.org/headlines/2004/12/william-hung-mania-sweeps-the-us/> ().
Short URL: http://www.asian-nation.org/headlines/?p=25
Tags:

Translate Into Another Language