December 4, 2004
Written by C.N.
Originally posted Jan 2003
On January 22, 2003 members of two Asian American fraternities from San Jose State University and U.C. Santa Cruz — Pi Alpha Phi and Lambda Phi Epsilon — settled an earlier dispute at a pool hall with a bloody brawl in a suburban park near SJSU. In the end, four students were stabbed and one died on his 23rd birthday. Both frats have subsequently been banned from SJSU as a result.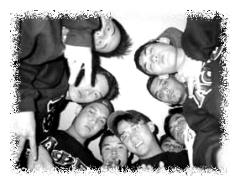 Nice going, guys. Real nice. Model minority? More like model gang members. Here we have two groups of Asian Americans who were supposed to be in an organization that promotes cultural diversity, inter-Asian unity, and community service. Instead, these boneheads are killing each other and make not only themselves look like complete morons but also make many of us embarassed to be identified with them as Asian Americans. As the details unfold, it appears that both sides initially agreed not to bring any weapons but also decided to recruit some "friends" who weren't in their frats to back them up. Apparently, one those "friends" on the Pi Alpha side was the one who stabbed Alam Kim to death.
Although it appears that none of the frat members on either side actually did the killing, this is an incredible act of stupidity nonetheless. Is there someone or something to blame here? The Greek system for making these Asian Americans feel like they have to defend the "honor" of their frat and of their "brothers" at all costs, including gang violence and murder, even if their antagonists are other Asian Americans? A misplaced feeling that rather than the prejudice and discrimination out there in the larger society are their biggest threats, they scapegoat their most immediate rivals as the ones to blame for their problems? An unconscious inferiority complex in which young Asian American men think they need to be violent to show that they're just as masculine as Whites, Blacks, or Latinos? Youthful bravado, reinforced by a mob mentality? Simple insanity on the part of each person who took part in this fiasco? My guess is, all of the above.

Author Citation
Copyright © 2001- by C.N. Le. Some rights reserved.
Suggested reference: Le, C.N. . "Unity, Brotherhood, and Murder" Asian-Nation: The Landscape of Asian America. <http://www.asian-nation.org/headlines/2004/12/unity-brotherhood-and-murder/> ().
Short URL: http://www.asian-nation.org/headlines/?p=12
Translate Into Another Language