December 4, 2004
Written by C.N.
Originally posted July 2001
After an unsuccessful campaign to win the right to host the Summer Olympics in 2004, Beijing was awarded the games for 2008. At issue was China's human rights record. Almost everyone agrees (except for the Chinese themselves, of course) that China does not have the cleanest, most sparkling human rights record in the world.
Groups such as Amnesty International have repeatedly criticized China for restricting freedoms of expression and religion and for unfair trials and overly harsh sentences that overwhelmingly include execution. They argue that giving China the 2008 Olympics only rewards China for these human rights abuses.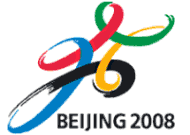 On the other hand, many others feel that the only effective way to encourage China to improve on its human rights practices is through increased interaction and exposure to structures and elements of democracy, rather than isolating them. These supporters, including George W. Bush's administration, feel that engaging China in a friendly and respectful dialogue is the key to improving relations and trying to influence China's human rights record.
It was rather ironic that a few days after China was awarded the 2008 Olympics, they tried and convicted three Chinese American scholars on charges of spying for Taiwan. Many argue that these charges were entirely fabricated and were used as excuses to silence these scholars, who were also accused of criticizing China's policies.
Two of the scholars were sentenced to be deported while the third was sentenced to ten years in prison. Fortunately, diplomatic efforts succeeded in the release of this third scholar so she could be deported back to the U.S. rather than being imprisoned in China.
The way I see it, I definitely agree that China needs to seriously improve its human rights record. But perhaps surprisingly, I also generally agree that the best way to influence them is not by isolating them, but by engaging them in a respectful and professional way. In this respect, China is not different from other "controversial" nations such as Viet Nam, Cuba, or North Korea.
For that matter, these nations are also like regular human beings. That is, people generally want to be shown respect and be treated in a professional manner. Even if they are accused of perpetrating injustices, hostile reactions will only make that person (or country) even more defensive and likely make the situation even worse.
Of course, there needs to be some accountability. The trick is knowing when to increase the pressure after other less hostile efforts don't produce any results. I don't pretend to know the answers. I just hope that awarding China the 2008 Olympics is a step in the right direction.

Author Citation
Copyright © 2001- by C.N. Le. Some rights reserved.
Suggested reference: Le, C.N. . "Two Steps Forward, One Step Back?" Asian-Nation: The Landscape of Asian America. <http://www.asian-nation.org/headlines/2004/12/two-steps-forward-one-step-back/> ().
Short URL: http://www.asian-nation.org/headlines/?p=5
Translate Into Another Language