December 4, 2004
Written by C.N.
Originally posted May 2004
Anna Mae He is a five-year old Taiwanese girl who has been raised by a White family since she was a few months old. Her birth parents have been trying to win back custody of her, claiming that they were misled into giving away full custody of Anna by the Baker family. Rather, Anna's birth parents claim that all they agreed to was for the Bakers to take temporary custody of Anna until they were able to straighten out some legal issues.
Recently, after four years of legal proceedings, a Tennessee judge recently ruled in favor of the Bakers and terminated the parental rights of the Hes. As described in a New York Times article,
Judge Robert Childers of Circuit Court said that the couple, Shaoqiang and Qin Luo He, had "failed to establish a meaningful relationship" with the girl, Anna Mae, because of "neglect and inattentiveness" and that the "physical environment of the Hes' home is unhealthy and unsafe." Judge Childers said they sought custody only so that they would not be deported.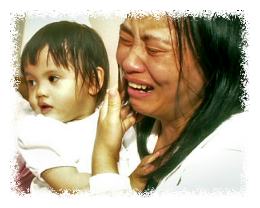 I'm not completely familiar with all the details of this case, but the judge's decision strikes me as rather biased and even ethnocentric. He makes some prejudicial and seemingly personal remarks about the Hes and their motivations for wanting Anna back. In fact, if I recall, this judge has been accused before of being rather biased against the Hes. As the Times article describes, not only is this a case over different legal interpretations but also one over differences in culture as well.
Unfortunately I see this case and this recent decision as another example of how Asian Americans, more often than not, get the short end of the stick when it comes to who gets the benefit of a doubt in the judicial system. I could be crazy but it seems to me that the parental rights of the birth parents would only be take away in extreme circumstances, such as child abuse, deliberate endangerment or negligence, etc. But here, the judicial system is willing to take the drastic step of terminating the Hes rights as Anna's birth parents over a disputed contract.
Is this another example of Asian American being screwed by the White-dominated judicial system, similar to what Vincent Chin and Wen Ho Lee experienced? If you think so, show your support for the Hes by visiting these sites:
~ ~ ~ ~ ~ ~ ~ ~ ~ ~ ~ ~
Update: In 2007, the Tennessee Supreme Court finally awarded custody of Anna back to her biological parents. In February 2008, the reunited He family moved back to China. Unfortunately, Anna's mother and father filed for divorce a few months after their arrival back in China amid allegations of abusive behavior by the father. The following ABC Nightline video chronicles Anna's bittersweet new life in China.

Author Citation
Copyright © 2001- by C.N. Le. Some rights reserved.
Suggested reference: Le, C.N. . "The Tragic Anna Mae He Case" Asian-Nation: The Landscape of Asian America. <http://www.asian-nation.org/headlines/2004/12/tragic-anna-mae-he-case/> ().
Short URL: http://www.asian-nation.org/headlines/?p=27
Translate Into Another Language