December 4, 2004
Written by C.N.
Originally posted Oct. 2003
California isn't the only state where strange things are going on politically. As this article on CNN.com points out, Indian American Republican candidate for Governor Bobby Jindal is running against a female Democratic challenger to be the next Governor of Louisiana.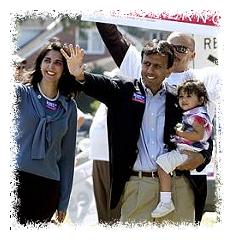 If elected, Jindal would only be the second mainland Asian American Governor, after Gary Locke of Washington. The fact that a non-White and especially an Asian American like Jindal is one step away from the Governor's seat surprises a lot of people. Considering that Louisiana is known to be a very White, conservative state (where ex-Klan leader David Duke almost became Senator and Governor back in the 1990s), many people are shocked that Louisiana voters seem to think so highly of Jindal, an American of Indian descent.
In fact, the fact that Jindal is a conservative Republican and a recent convert to Catholicism, appeals to many Louisiana voters. Not to mention he was a former Rhodes Scholar and Louisiana's Secretary of State. I'm not sure to what extent Jindal identifies himself as "Asian American" or to what extent other Asian Americans (most of whom are liberal Democrats, like myself) embrace him as a role model and leader of the community. I suppose that in the end, and presuming he gets elected, we'll just have to see what kinds of policies he favors and how these policies affect most Asian Americans.
Latest update: On November 15, 2003, Democratic candidate Kathleen Blanco defeated Jindal to become the new Governor of Louisiana. It appeared to be somewhat of a come-from-behind win for Blanco, since the last polls showed Jindal with a lead of several percentage points. The Associated Press has a very interesting article that speculates on whether race was a factor in Jindal's defeat. Although Jindal lost this particular election, I'm sure we haven't heard the last from him — don't be surprised to see him run for Senator of Louisiana in the future.

Author Citation
Copyright © 2001- by C.N. Le. Some rights reserved.
Suggested reference: Le, C.N. . "Politics Make for Strange Bedfellows" Asian-Nation: The Landscape of Asian America. <http://www.asian-nation.org/headlines/2004/12/politics-make-for-strange-bedfellows/> ().
Short URL: http://www.asian-nation.org/headlines/?p=19
Translate Into Another Language