December 4, 2004
Written by C.N.
Originally posted April 2004
In its May 2004 issue, Details magazine included a piece entitled "Gay or Asian," as another installment of their "Gay or __" series. Purporting to be an "anthropology" piece, the author, Whitney McNally, writes such things as "Whether you're into shrimp balls or shaved balls, entering the dragon requires imperial tastes" and "Ladyboy fingers: Soft and long. Perfect for both waxing on and waxing off, plucking the koto, or gripping the kendo stick."
Naturally and almost immediately after it was circulated, the Asian American and gay communities reacted with outrage, describing the piece as a tasteless, insensitive, and hurtful example of all the worst cultural stereotypes against both Asian Americans and gays. Similar to the reactions against the Fox tv show Banzai and the Abercrombie & Fitch t-shirts, several Asian American community groups, led by Asian Media Watchdog, quickly organized a campaign demanding that Details magazine recall all issues, issue a formal apology, and fire the author.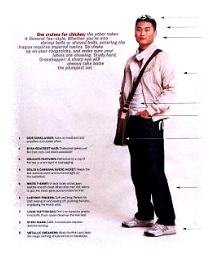 They conducted a well-attended and well-publicized protest outside of Details' offices on April 16. You can read about the results of the protests in detail, but it appears as though it was quite a success. They succeeded in speaking with the Editor-in-Chief of the magazine, along with other representatives of the company and in getting most of their demands met, including an official apology from Details.
These series of events once again show (1) that many groups in society (especially media outlets) still apparently feel that Asian Americans are ripe targets for sterotyping and demaning portrayals and underestimate our collective outrage, and (2) when Asian Americans unite and fight against these blatantly racist and homophobic portrayals, we can move mountains.
As we shatter the myth that Asian Americans are apathetic or powerless, we give American society a first-hand example of the kind of power we can generate as a collective community and that they we are not going to sit idly by when others try to portray us against in whatever way they want. Bravo to everybody involved!

Author Citation
Copyright © 2001- by C.N. Le. Some rights reserved.
Suggested reference: Le, C.N. . "Outrage at Racist & Homophobic Details Magazine" Asian-Nation: The Landscape of Asian America. <http://www.asian-nation.org/headlines/2004/12/outrage-at-racist-homophobic-details-magazine/> ().
Short URL: http://www.asian-nation.org/headlines/?p=26
Translate Into Another Language