December 4, 2004
Written by C.N.
Originally posted Nov. 2003
Bill Singer was (emphasis on "was") a special assistant for the New York Mets until he directed some racist remarks at Kim Ng, an Asian American executive for the Los Angeles Dodgers, formerly employed by the New York Yankees, and widely respected as the most powerful Asian American in baseball. As this article from the A.P. via Yahoo describes, Singer repeatedly asked Ng "Where are you from?" even after Ng said that she was born in Indiana and grew up in New York and then Singer mocked the Chinese language by blurting out the all-too-familiar "ching-chong" sounds.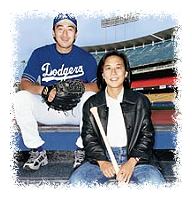 Sadly, this kind of racist treatment happens all too frequently against Asian Americans in the workplace, whether it's in an ordinary office environment or in this case, among high-profile baseball executives. I commend the New York Mets for reacting swiftly and decisively in firing Singer, especially after Singer gave the pretty laughable excuse that he was slightly delirious due at the time, due to being on a low carb diet combined with a little too much alcohol. All I can say is that he absolutely deserved it — what an idiot.
Apparently he had no clue that he worked for a team located in perhaps the most multicultural city in the world, its stadium located right next door to one of the largest Chinatowns in the country, and in a sport that is increasingly welcoming Asian baseball players into its ranks. Major League Baseball teams have fired or severely disciplined many other people for racist comments against Blacks and it makes perfect sense that the same consideration is given to Asians in baseball as well.

Author Citation
Copyright © 2001- by C.N. Le. Some rights reserved.
Suggested reference: Le, C.N. . "N.Y. Met Executive is Fired Over Racist Remarks" Asian-Nation: The Landscape of Asian America. <http://www.asian-nation.org/headlines/2004/12/ny-met-executive-fired-over-racist-remarks/> ().
Short URL: http://www.asian-nation.org/headlines/?p=21
Translate Into Another Language