December 4, 2004
Written by C.N.
Originally posted Sept. 2003
As news articles like this from CBS News describe, Yee was employed as a Chaplain for the U.S. military and was assigned to counsel Muslim prisoners at the U.S. military prison at Guantanamo Bay, Cuba.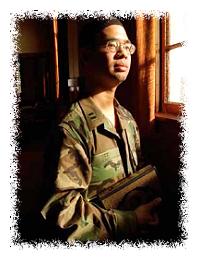 After a recent flight back to the U.S., he was detained and arrested for allegedly passing classified information onto the terrorist suspects. Federal prosecutors are conducting an investigation to see if they can levy more specific espionage charges against him.
I can't say at this point whether Yee is guilty or innocent but what disturbs me is the confluence of several factors. First, the Justice Department (led by Attorney General John Ashcroft) seems bent on enacting "anti-terrorist" legislation that would basically trample many basic civil rights that the Constitution supposedly guarantees us as Americans.
Second, on the heels of the Katrina Leung arrest and the infamous Wen Ho Lee episode, espionage allegations have been brought against another Asian American. It just seems like if you're Asian (and Muslim), you're seen in a much more suspicious light than other groups. We'll have to see how this case plays out, but something about it already smells rotten to me.
First update: Yee was recently released from "pre-trial confinement" (a.k.a. prison) but is now charged with committing adultery and storing pornography on a government computer. This case isn't through yet, but it sounds like the government could not find any evidence to substantiate its charges of espionage against Yee so in order to save face, they've brought these new charges against him. Like I said, smells pretty rotten to me.
Latest update: On March 19, 2004, the Army formally dropped all charges against Yee. Although they claimed it was because revealing evidence against Yee would have put national security at risk, it was pretty clear that the charges were pretty weak all along. Once again we witness an episode where, just like Wen Ho Lee, an Asian American is accused of espionage, denied bail and unfairly imprisoned, and in the end, the charges of espionage are never substantiated and all other charges are dropped. Incredible.

Author Citation
Copyright © 2001- by C.N. Le. Some rights reserved.
Suggested reference: Le, C.N. . "New Spy Allegations" Asian-Nation: The Landscape of Asian America. <http://www.asian-nation.org/headlines/2004/12/new-spy-allegations/> ().
Short URL: http://www.asian-nation.org/headlines/?p=18
Translate Into Another Language