December 4, 2004
Written by C.N.
Orignally posted Jan. 2004
CBS News reports that the City Council of San Mateo, California, has issued a temporary ban on the use of private rooms in karaoke bars, arguing that drug use, gambling, and prostitution are rampant in these private rooms.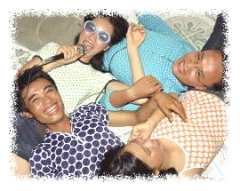 Naturally, the karaoke business owners are up in arms about the ban and argue that just because some isolated incidents of illegal activity occurred in these types of places, that does not mean that a whole group has to pay the price for the actions of a few.
The owners are absolutely right. I've said it before — you cannot condemn an entire group of people because of the actions of one or a few individuals who are identified with that group. That is called discrimination and racial profiling, plain and simple. What makes this case even more interesting is that one quarter of San Mateo's population are Asian American, part of an emerging demographic trend in California of upscale and affluent Asian American suburban enclaves.
It makes me wonder whether this ban by the City Council members (most of whom are White, I presume) is a conscious or unconscious form of backlash against the belief that Asian Americans are "taking over." Update: In early March, city officials apparently ended the ban (although with some stipulations) after much protest from the Asian American community and accusations that they were being culturally insensitive. Moral to this story: don't punish an entire group for the actions of a few — that's called scapegoating.

Author Citation
Copyright © 2001- by C.N. Le. Some rights reserved.
Suggested reference: Le, C.N. . "Shutting Down Karaoke Private Rooms" Asian-Nation: The Landscape of Asian America. <http://www.asian-nation.org/headlines/2004/12/karaoke-private-rooms-shut-down/> ().
Short URL: http://www.asian-nation.org/headlines/?p=23
Translate Into Another Language