December 4, 2004
Written by C.N.
Originally posted Jan 2003
In the February 2003 issue of Maxim, there is an article, alleged to be "humorous," that has enraged many Asian Americans. As described by the Southern Poverty Law Center,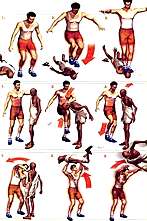 "The article, attempting to show how fighting can bring fitness, calls for 'a healthy regimen of violent assaults' and urges readers to 'teach those pacifists a lesson about aggression.' The three-page article includes 21 different scenes of the man hitting, kicking, choking and throwing Gandhi" (see picture on the right).
I'm so glad to see that pure stupidity and ignorance are alive and well. Not only does Maxim have the gall to depict a (White) man beating up on one of the most revered leaders in history but in doing so, it explicitly encourages its readers to commit hate crimes against not only Asian Indians, but also anyone who may remotely look like a Muslim terrorist, and by implication, all Asian Americans as well.
Of course, Maxim will claim that it was all intended as a joke and that they never meant to offend anyone, blah blah blah, the usual half-ass retort. I'm sure they'll keep repeating this line after one of their half-witted Neanderthal readers, fueled by a six-pack or two, goes out and beats up on an Asian too.
This kind of stupidity in the name of "humor" is getting really old. It's so sad to see that even in this so-called enlightened and multicultural society how many people just simply don't get it.

Author Citation
Copyright © 2001- by C.N. Le. Some rights reserved.
Suggested reference: Le, C.N. . "Hate Crimes Are So Funny, Aren't They?" Asian-Nation: The Landscape of Asian America. <http://www.asian-nation.org/headlines/2004/12/hate-crimes-are-so-funny-arent-they/> ().
Short URL: http://www.asian-nation.org/headlines/?p=13
Translate Into Another Language